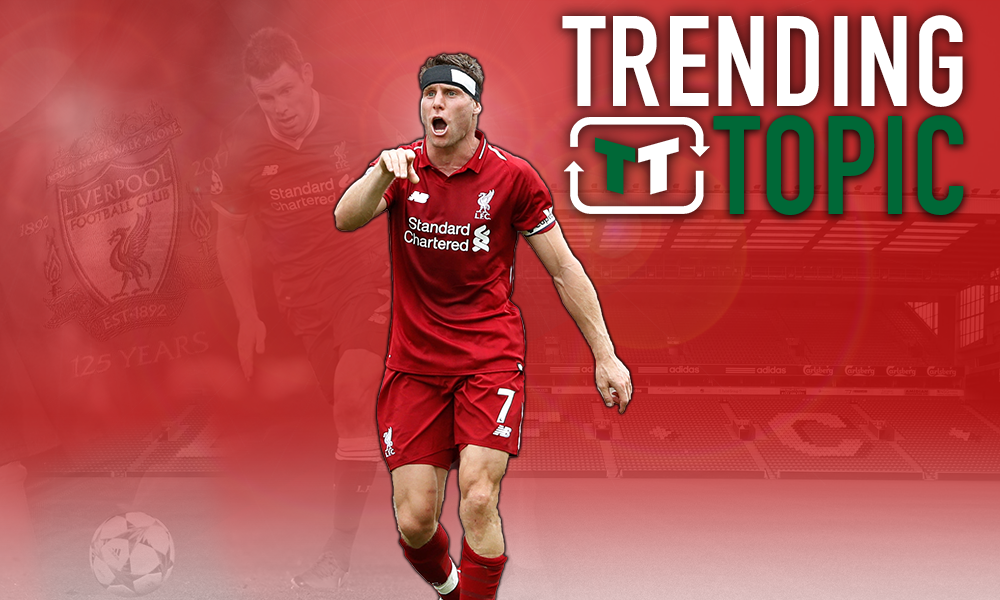 Many of Liverpool's players have impressed so far this season, and James Milner has been up there with the best of them. Though he's now 32-years-old, he's been playing with the quality of a player in his prime. 
However, the Englishman is now set for a spell on the sidelines, with the Telegraph reporting a layoff of around a month is expected. He's crucial for the Reds, and he'll big a big miss.
Replacing Milner, then, isn't just about taking one player out and putting another in. The job that the Englishman does is sublime, and an entire reshuffle may be needed in order to cover what he does on the field.
This season, the Englishman has served as the energy and legs through the midfield, with Milner always a willing runner and eager to track back. He's also, though, had an impact going forward, with 1 goal and 2 assists so far this season. Milner is too a solid passer of the ball, and so Jurgen Klopp needs to pick a midfield that is able to cover all of that and plenty more.
Fortunately, he does have options.
One such option would be to include Fabinho at the base of the midfield. Milner is an extremely hardworking plaayer, and that means he's able to contribute defensively as well as moving forward. Jurgen Klopp wouldn't be wise to put in a player that isn't able to do their share of defensive work, then, and so Fabinho would be a good fit. The Brazilian has yet to start in the league for the Reds, but with the second international break now underway, it's surely getting to a period in which the Reds simply must unleash their big money summer signing.
At Monaco, Fabinho was a brilliant defensive force capable of tackling and breaking up play with ease, and so he would be able to handle the bulk of the defensive midfield duties. He's also got a good range of passing to help spring attacks.
As mentioned, Milner's energy is boundless, and so Naby Keita seems like a natural choice. Keita has had a mixed start to the season, though as a newcomer to the league, he was always going to have problems. Still, Klopp knows exactly what he's going to get in the Guinean. He's got excellent energy and a ruthless appetite for involvement, and so he'd be required to run from box-to-box and make an impact at both ends.
Liverpool still need that offensive flair that Milner provides, though, and perhaps Georiginio Wijnaldum could be the man to provide it. He's been one of Liverpool's best players so far this season. He may have only bagged 1 league goal, but with a passing accuracy rate of over 90%, the Dutchman has emerged as the sort of player that can make a team tick. Able to make use of his fantastic technical ability to fling passes up and down the field. Wijnaldum will be able to serve as a real creative force if given extra incentive to move forward.
Jurgen Klopp certainly has a number of choices as he looks to accommodate the absence of Milner. Jordan Henderson will certainly have a role to play, and perhaps Adam Lallana could get a look-in after the international break. Still, the aforementioned trio would offer good balance for the Reds.