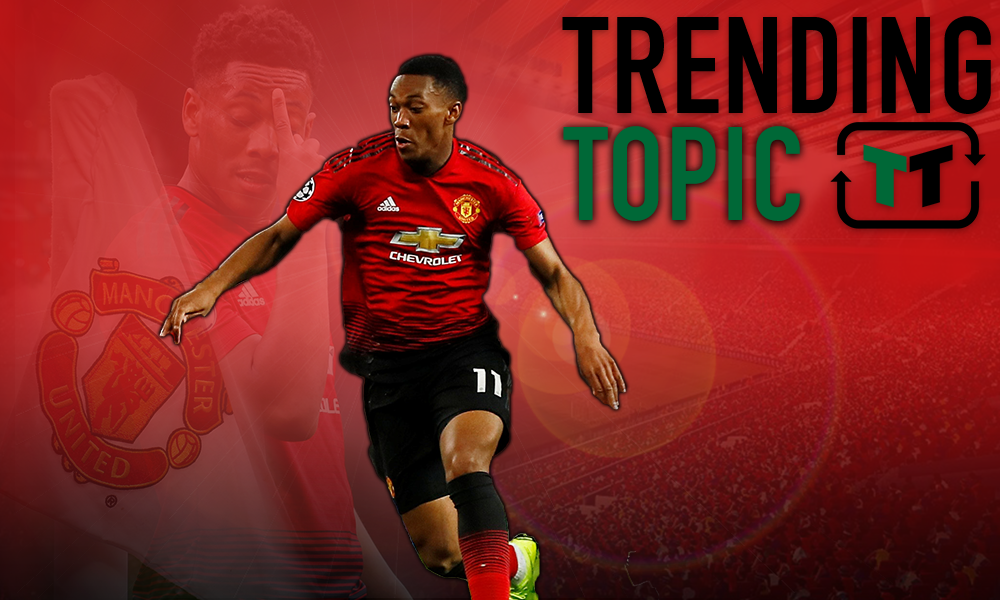 Romelu Lukaku is a problem at Man Utd, make no mistake. He's one of Europe's most lethal forwards, but at present, his poor form is contributing to Man Utd in a big way – and not in the positive sense.
The Red Devils are not in a particularly good moment at present, and that's due in large part to their poor form going forward – with Lukaku the main problem.
That's not an easy thing to fix, either, given Man Utd's lack of attacking depth. Romelu Lukaku is arguably Jose Mourinho's only natural option in the role, with the likes of Marcus Rashford and Alexis Sanchez preferred out wide.
However, perhaps Jose Mourinho could find a solution to this problem elsewhere.
Lukaku isn't performing well enough, but could Anthony Martial have an impact in the role?
Martial, of course, regularly played as a forward during his time at Monaco, and he moved to Old Trafford seemingly as a number 9 option. However, he was quickly shifted out wide – but that doesn't mean that he wouldn't be able to make an impact through the middle.
His electric pace, lethal finishing and excellent dribbling are all traits that align perfectly with the role, and they're transferrable across a number of positions.
One thing that he certainly has over Lukaku is his ability with the ball at his feet. One of Lukaku's major issues this season has been his inability to keep hold of the ball, and in Martial, Mourinho would have a player that he can trust in that sense.
He might not be as much of a lethal goalscorer as Lukaku, but sometimes that's not important. There is a bit of a rise going on at present regarding forwards that aren't necessarily on the field just to score – like Olivier Giroud during France's pursuit of the World Cup – and Martial could follow a similar path.
He's got all the attributes to fill in.
Thoughts?