Newcastle fans on Twitter can't get enough of model pro Isaac Hayden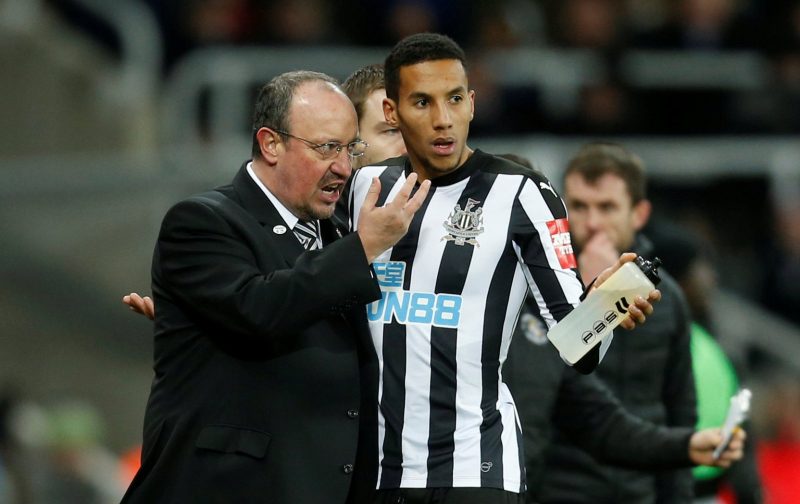 Newcastle fans have been well aware of the fact that Isaac Hayden is desperate to make his St James Park exit for a long time. At first, he came in for a lot of stick from the fans for his 'lack of bottle' and wanting out, yet after his recent impressive displays, the fans have U-turned. This recent interview in The Times has only helped his cause too.
"Money isn't everything … I want to be a proper dad." @IsaacHayden65 opens up on family, football, loving and leaving Newcastle and how his second act at St James' Park came at the moment he least expected it. https://t.co/1vOfIf5sti #Nufc

— George Caulkin (@CaulkinTheTimes) March 1, 2019
When it comes to reporting on Newcastle United, loads of the Magpies know who they can trust to deliver the most reliable news, and George Caulkin is one of the most reliable. So for this interview between The Times' journalist and Newcastle's wantaway star Hayden to come out has shed a new light on the young midfielder for a lot of the Geordies.
Hayden's issues with wanting a move away are for no reasons other than to do with being closer to his family. It's been made clear by Hayden that he has no interest in leaving for the money and he almost took a step down from the Premier League to the Championship so he can live closer to his young child and 'be a proper dad' as the player himself has put it. In these circumstances, there's no way the Magpies can hold it against the player for wanting out.
You can read the Magpies' verdict on Hayden here:
He's been a complete professional since last Summer. In a world of Dmitri Payets, we should all want to be an Isaac Hayden. He will leave with total dignity and respect from the NUFC faithful.

— Ian (@ian_riches) March 1, 2019
Speaks volumes for the bloke that he's putting in such performances for us. Can't really knock his reasons for leaving, to be fair.

— Andy (@El_Tibur0n) March 1, 2019
So much respect for this lad and his performances speak volumes for his character. With so many players going on strike to force moves, could've gone down that route. This lad even helping out at NUFC Foodbank. Hope he gets a good reception on his return to SJP.

— Andrew Nesbitt (@Nezy1909) March 1, 2019
Brilliant article and fair play to the https://t.co/bemaYPDLf8 absolute credit to himself,his family and our club

— Decca bell (@BellDexyb99) March 1, 2019
When other players are understandably getting the plaudits @IsaacHayden65 has been sensational. Thanks so much for the effort and pride in playing in the black and white shirt

— Gary Smith (@geordiegaz83) 1 March 2019
Love this interview. He sounds like a really nice, thoughtful guy.

— catherine garrison (@catemorallee) March 1, 2019
Continue to put in the performances like he has recently. He will get one of the biggest send offs at the last home game.

— Quinnin (@AdamQuinnin) March 1, 2019
Great article George, very honest and heartfelt. Hayden has been a true professional and I will be sorry to see him go. But I wish him and his family all the best for the future #NUFC

— Proud 2 be a Geordie (@NicolaWintrip) March 1, 2019
The Magpies have gained incredible respect for Hayden this season and would love to see him given a royal send-off between now and the summer.