Newcastle fans on Twitter rage at Kenedy as he likes controversial Instagram post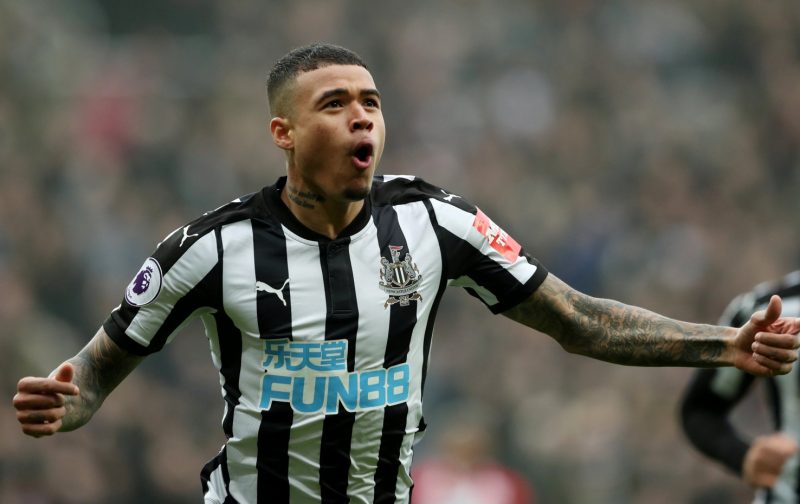 The last thing that any set of fans want to see after losing a game of football is what the Newcastle fans had to see from Kenedy yesterday. After losing narrowly at Wembley against Spurs to a Heung-Min Son goal, the Brazilian Newcastle loanee took to Instagram and like a picture of Son scoring the winner against his side.
Ffs man. pic.twitter.com/qkA4p7Yqef

— NUFC 360 (@NUFC360) 2 February 2019
This is just the latest incident to happen with Kenedy this season, and the fans will be desperate to be rid of the Brazilian when the summer comes along. His form this season has been horrendous and the fans will be desperate to get him out. If they had their way he would have had his loan move cancelled over the January transfer window and would have brought a new man in to replace the Chelsea man.
It seems strange that Kenedy has been so poor this season. When he moved to St James Park on-loan last January he was a different player to the one that the Geordies have been watching now. It was around this time last year when the young winger scored twice on his debut for the club ina  3-0 win over Southampton, and at the moment he looks a million miles away from scoring a brace.
You can read the Magpies' angry responses to Kenedy's Instagram like here:
Never helps himself does he

— NUFC Online (@NUFC_Online) February 2, 2019
He should have been sent back in January. Massive disappointment. Chelsea will be kicking themselves for not selling him in the summer.

— Jake Oliver (@jolivernyc) February 2, 2019
Seen that, drop him to the reserves and be done with him he has no intentions of being here

— Kevin McManus (@kevinmcmanus23) 2 February 2019
Should of been sent back in January so we could of made another loan signing he's not what he first was when he come here

— Mickey NUFC Marr (@mickey_marr) 2 February 2019
He can go back to Chelsea.

— Robin Verhagen (@robinnufc) 2 February 2019
He don't wanna be here, end of

— TalkNewcastle (@TalkNewcastle92) February 2, 2019
He's been awful this season, doesn't care and thinks he's better than he is

— Craig Bell (@CraigNUFC1991) February 2, 2019
Thats a big error in judgement there.

— James (@James9_NUFC) February 2, 2019
The Geordies are far from happy with Kenedy at the moment and would love to see him shipped back to Stamford Bridge.