Newcastle United: Fans deliver verdict on Matty Longstaff's debut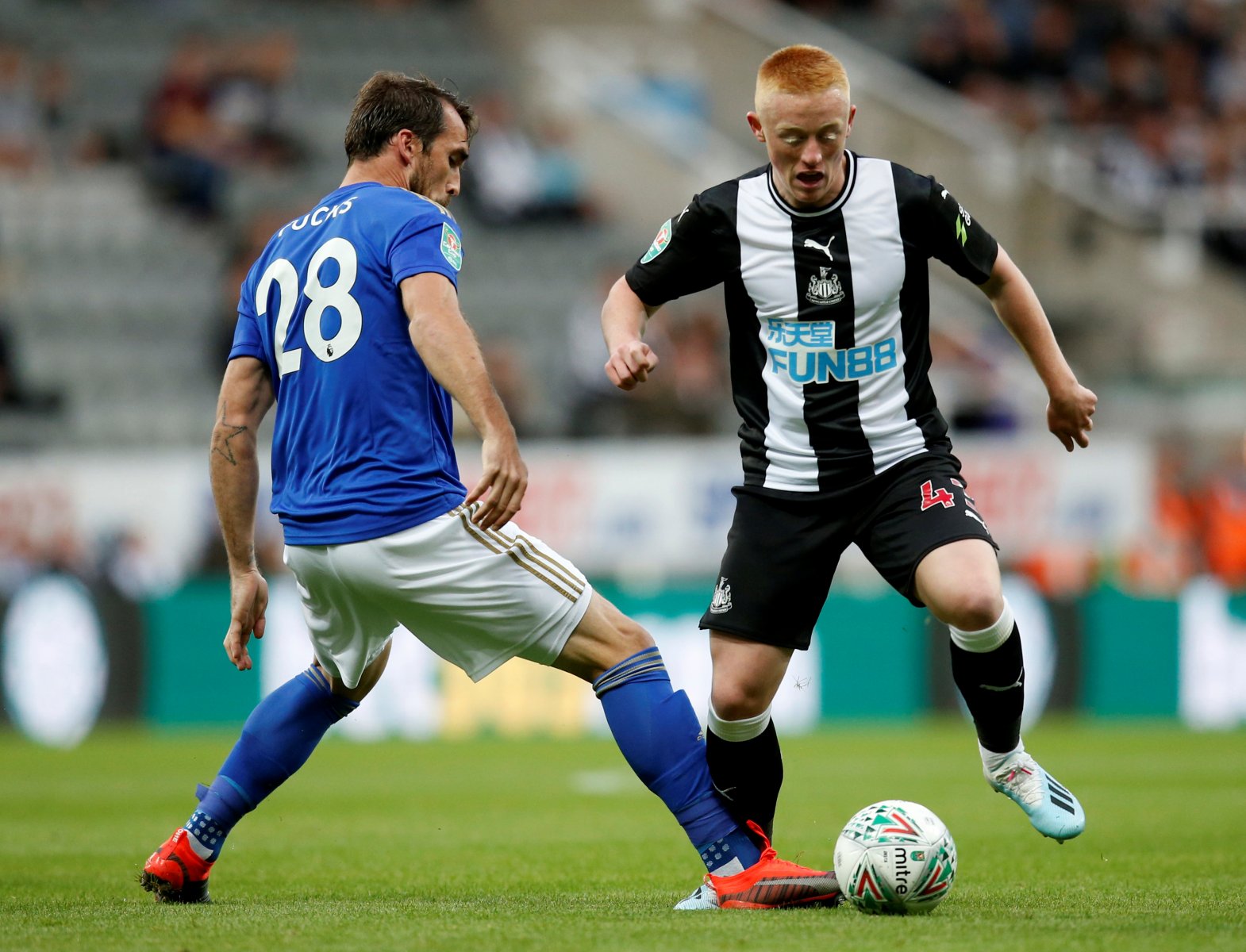 A selection of Newcastle United supporters have been sharing their assessments of Matty Longstaff's Toon debut, after Steve Bruce awarded the Magpies product his first-team bow in the Carabao Cup defeat to Leicester City.
Longstaff has been on the fringes of the Newcastle first-team since emerging as an option to Bruce in pre-season, when he impressed many with his efforts off the bench in the Premier League Asia Trophy fixtures with Wolverhampton Wanderers and West Ham United.
There has not yet been a spot on a Premier League teamsheet for the Rotherham-born midfielder, though, but the Carabao Cup brought with it a raft of changes at St. James' Park, including Longstaff being drafted in to the starting XI alongside Jonjo Shelvey as a replacement for his brother Sean and Miguel Almiron.
The 19-year-old's first real taste of the action against Leicester came on six minutes, when the 5 ft 6 natural holding midfielder made a darting run toward the Foxes box, only to be upended for a free-kick that would be wasted by Shelvey.
Longstaff kept himself busy in the opening 45 minutes, even despite a crunching tackle by Caglar Soyuncu, but clearly faded in the second-half, which was noticed by many of the supporters judging his competitive debut.
Before the break, Longstaff had attempted ten passes, with WhoScored noting a 90% success rate, but his competition rate fell to just 60% after half-time. He also failed to complete any of his dribbles in the second-half having earned a 100% success rate in the opening 45, where he made his only clearance of the game as well.
Longstaff's display did show plenty of promising signs in the eyes of the St. James' Park faithful, but also left much to the imagination.
Here's how these fans judged his debut…
Played very well first half, second was like a ghost I thought

— Jack James Raine (@JackJRaine) August 28, 2019
4 things from last night

– Muto could probably best a giraffe in the air
– Madisson deserves an England call up purely for his shithousery
– Anyone booing Perez needs to take a long hard look at themselves
– Matty longstaff needs more confidence to take a shot on

— Matt Livingstone (@Matt_Livi_) August 29, 2019
Obviously never nice to go out the cup but plenty of positives tonight. Matty Longstaff looks like he's got some serious potential. We've got some great defensive options again this year, back 3 decent tonight. Muto lively and looks like he can contribute this season. #NUFC

— Jordan Knill (@Kniller_) August 28, 2019
Disappointing night in the end for #nufc. Cannot fault the effort of some of the players–particularly Matty Longstaff and Muto. Felt that we were unlucky in the end.

— Ben Le Dune (@benledune) August 28, 2019
Look at the bright side, Matty Longstaff got his first start and Muto finally scored another goal. The evening is not a complete write off. #nufc

— Andrew McVittie (@Andrew_McVittie) August 28, 2019
Thoughts on @NUFC performance vs @LCFC
-M. Longstaff has bright future, never stops running and tidy on the ball
-Defensively we look comfortable in a 5-4-1. Only conceded 1 goal (deflected fk) in 180 mins of football against 2 good teams
-Hayden made some great tackles #NUFC

— Thomas Millman (@thomas_millman) August 28, 2019