Newcastle United: Fans react to potential decision to play Christian Atsu against Burnley
Following the news that Allan Saint-Maximin will miss the remainder of the month and beyond with a hamstring injury, Newcastle United supporters have been pondering who they will play in his stead – with the likely option dissatisfying a few fans in the build-up to a challenging away trip to Burnley. 
Who should start for Newcastle, Joelinton or Andy Carroll?
Joelinton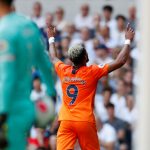 Carroll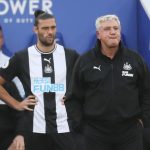 The Magpies travel to Turf Moor on Saturday in a bid to continue their fine run of form that has lifted them to 10th in the Premier League table – with an impressive draw at home to Manchester City capped off by crucial victories at the expense of Sheffield United and Southampton.
However, following news that their player will be out for the next month, manager Steve Bruce and supporters have had to ponder a crucial decision over how they replace his influence.
The most likely answer, it appears, would be to play Christian Atsu in his place – with some fans praying that doesn't happen and Bruce instead opts for another approach.
Here's what they had to say on Twitter.
Atsu is poor and offers very little, imo he's quite lazy

— Chris Cossey (@Cosseycj) December 12, 2019
Let me give you a hint. Atsu is basically our only choice.

— Barrsky85LIVE (@Barrsky85LIVE) December 12, 2019
It'll be Atsu. I'd put cash on it.

— chris (@chriskap0w) December 12, 2019
All depends how bold Bruce is willing to be. If he thinks atsu is the answer we will be lucky to get a draw. If he changes the style and formation and makes a change that doesn't involve atsu we should take the points

— Mr Henry 🇩🇲 (@HENRYD8TH) December 12, 2019
It's obvious the coach hasn't got a clue how to use joelinton so I'm expecting atsu in as the only change. It will stay that way until they get beat. He's found a formula & wont be toying with it anytime soon.

— vic bates (@victorbates) December 12, 2019
I fully expect to see the exact same team sheet just with atsu instead of ASM

— Twizard ✖⚪ (@NUFC_Twizard) December 12, 2019