Mauricio Pochettino's philosophy is a difficult one to label, but it's fair to say that it combines key elements from both ends of the footballing spectrum. 
A quick glance towards Leeds United this season might just provide Spurs supporters with a vague understanding of how Pochettino developed his style of football.
If there was one word which epitomised Pochettino's philosophy, it would have to be bravery. Perhaps that is why the Argentine has become such a widely popular figure in north London.
The word bravery is pertinently synonymous with Tottenham's iconic mantra: to dare is to do. And during a period of time in which Pochettino's rivals have been provided with the financial resources from which to build title challenges, he has needed to make plenty of brave decisions in order to compete with the Premier League elite.
First and foremost, Pochettino has maintained an aesthetically pleasing style without falling into the trap of keeping possession for possession sake. An equilibrium point between direct football and the flagship style championed by Pep Guardiola has been reached by Pochettino, and he has struck that incredibly fine balance while sticking to one of his most commendable principles: the promotion of youth.
That Tottenham have failed to win a single trophy under Pochettino has been a topic of rife discussion in the British media, but there is certainly a case to be made which debunks a rather facile view of success measured purely on the winning of silverware.
Pochettino has installed a mentality into a club which has previously fallen victim to its own expectations of failure. Clearly there is plenty more work to be done and Tottenham's shortcomings in the Champions League this season have served as an acute reminder of the extent of the challenge at hand, but make no mistake about it, Pochettino has transformed the club into a side who, on their day, can beat anybody in Europe.
A 3-1 demolition over Real Madrid at Wembley last season served as a quintessential example to justify that notion, and the long-awaited opening of the new White Hart Lane will undoubtedly provide the foundations for plenty more ethereal European nights.
Individual players have worked with relentless persistence to establish themselves at Tottenham, including the likes of Harry Kane, Dele Alli and Kieran Trippier, but it's the form of Erik Lamela this season which epitomises the core principles of Pochettino's philosophy.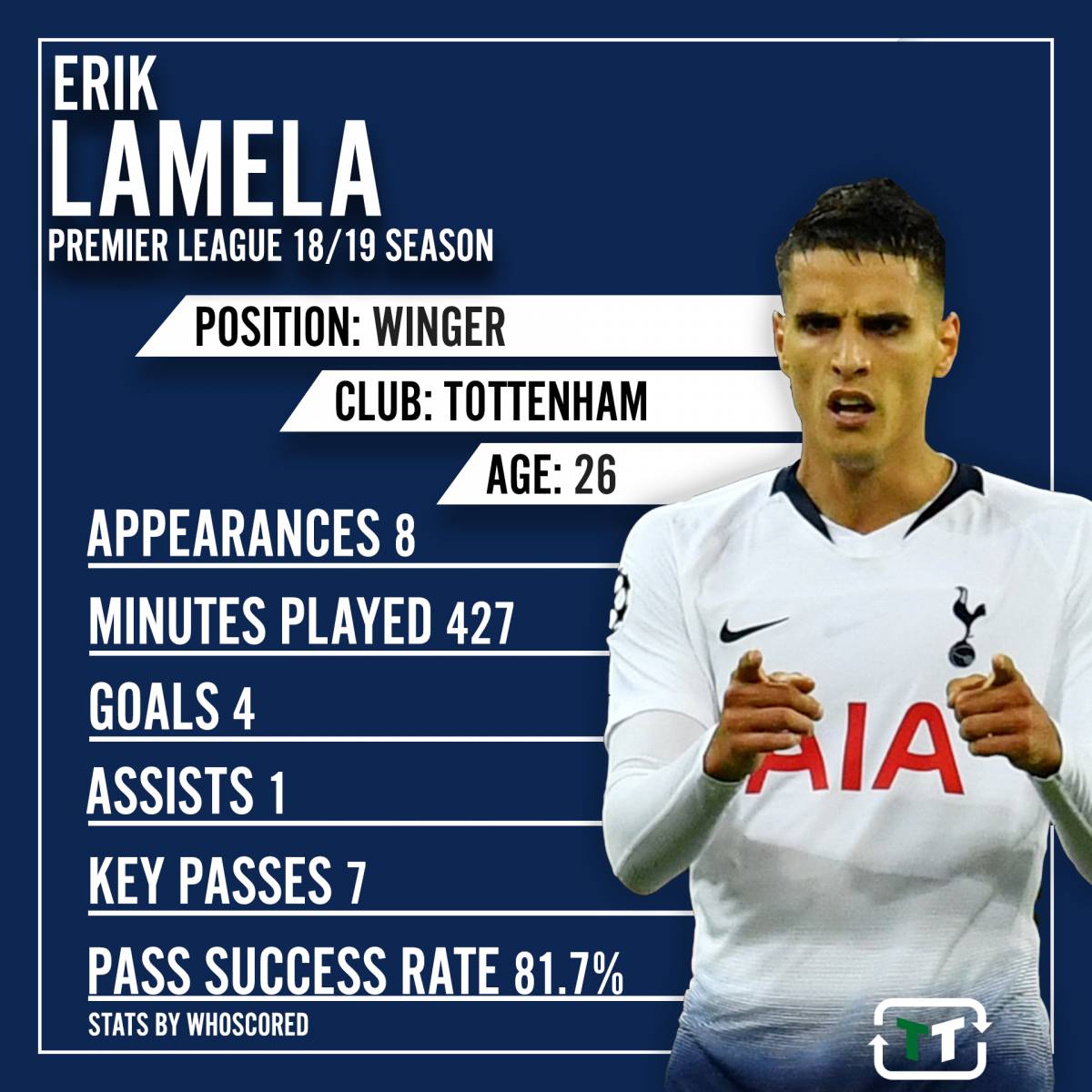 Signed by Andre Villas Boas for a fee of £27 million in 2013, expectations were sky-high when the Argentine arrived at the club after showcasing enormous potential during his time with AS Roma.
His first season was marred by injury problems, but a moment of daring flamboyance at the beginning of the 2014/15 campaign revealed a swagger in his game which is typically associated with attack-minded South Americans.
That moment was, of course, his iconic 20-yard rabona against Asteras Tripolis in 2014. But it was Lamela's diligence and refusal to allow his opponents to enjoy time on the ball which really caught the eye of the supporters, and that defining trait has endeared him to the Spurs faithful at times when his technical quality was perhaps lacking conviction.
Under a manger of Pochettino's expertise, who values courage, determination and adaptability, Lamela has blossomed into one of the club's most influential attacking players. His style of play effectively embodies the core components of Pochettino's philosophy, and it's no surprise that his meteoric improvement has been most notable under his compatriot's tutelage.
A debilitating hip injury left Lamela sidelined for almost an entire year between October 2016 and November 2017, but he has returned to first-team football at the very pinnacle of his game. The character Lamela has shown to return after such a prolonged absence and reach the heights which nobody previously anticipated him to reach is indicative of how well aligned his attitude is with the principles of both Pochettino and Tottenham Hotspur.
His recent call-up to the Argentina squad is just reward for his bravery,  selfless hard-working attitude and his touch of class which form the basis of a player who is tailor-made for Pochettino.
Tottenham fans – thoughts? Let us know below!