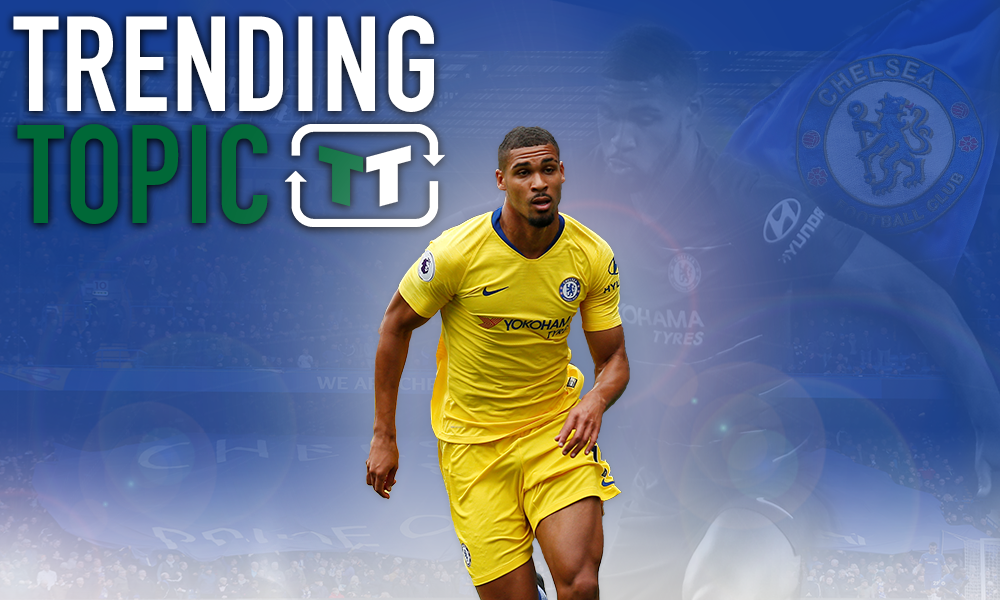 Chelsea have had more than a handful of tremendous young players over the last few years. Josh McEachran, Nathaniel Chalobah, Kevin De Bruyne – the list goes on and on. It's never been a case of the Blues being unable to produce talent – their ability there is undeniable. However, they've always managed to, somehow, avoid pushing them into the first team on a regular basis. 
McEachran now finds himself at Brentford, Nathaniel Chalobah is over at Watford, and Kevin De Bruyne is impressing at Man City. There's no telling just how impactful any of those players would have been at Stamford Bridge, but it's tough to dispute the argument that they did deserve more of a chance at Stamford Bridge.
However, at present, Chelsea are on the verge of making another mistake on the level of letting someone like De Bruyne or Chalobah leave. Most seasons there is at least one young player that deserves a chance in the first team, but in the case of Ruben Loftus-Cheek, it's less of an opportunity to make a change and more of a need to make a change.
The Englishman is reportedly unhappy at Stamford Bridge, though, at least according to the Telegraph, after Maurizio Sarri excluded him from the Chelsea squad against Arsenal. After looking good against Huddersfield on the opening day, the Englishman was replaced on the bench by Mateo Kovacic, and that clearly hasn't gone down well.
A permanent departure isn't on the table yet, but it's tough to see Loftus-Cheek getting a chance next season if he isn't in Sarri's plans this term, and that is an issue. Indeed, Sarri's regime may only be just over a month old – but he's on the verge of the biggest mistake he could possibly make.
There was certainly an argument to suggest that Ruben Loftus-Cheek didn't fit into Antonio Conte's system, given that he's neither a winger nor a defensive midfielder, but under Maurizio Sarri, the Englishman would suit perfectly. An attacking midfielder by trade, he'd fit in well as the third midfielder, offering brilliant energy and technique moving forward. With the aim of drifting between the lines and picking up the ball in space, the Englishman could undoubtedly find a home in the Marek Hamsik role that Sarri valued so highly at Napoli.
He's perfectly suited for the Premier League, and at just 22-years-old, the Englishman is only going to get better. Does he need work? Of course he does – but that's Maurizio Sarri's job.
If Sarri fails to give him his chance, then, it will quickly emerge as perhaps the biggest failing of his tenure at Chelsea – and he hasn't even been there two months.
Whilst Loftus-Cheek hasn't been around for as long, if Maurizio Sarri is looking to build a meritocracy at Stamford Bridge, the Englishman deserves his chance more than any rivals. Based on last season's form, at least, neither Mateo Kovacic or Ross Barkley can hold a candle to Loftus-Cheek's quality – and that can't be understated. Sure, neither of the duo played as many minutes – but Loftus-Cheek earned that opportunity.
That's without considering his form at the World Cup, too. Despite being surrounded by players several years his senior and with bags more experience, Loftus-Cheek was right at home over in Russia, and he looked prime and ready for a starting berth.
With long-term planning in mind, he's also a player that makes sense to focus on if Sarri is planning on staying around for a while. Mateo Kovacic is only in London for a year, whilst Ross Barkley's injury record is very concerning – with several long-term issues proving to be problematic for the Englishman.
The fact of the matter is that Chelsea have never had a better chance to give a young player his chance. No player has looked as good, had such a natural position to move into or had the experience that Loftus-Cheek has. If Sarri fails to give him his chance, then, it will quickly emerge as perhaps the biggest failing of his tenure at Chelsea – and he hasn't even been there two months.
Chelsea fans – thoughts?
Let us know below!