Manchester United
Opinion: Zidane's potential dream XI if he were to take over from Mourinho at Man Utd
Zinedine Zidane has been linked with the Man Utd manager's job this week, with the Sun reporting that the Red Devils want to bring him in as a potential Jose Mourinho replacement if the Portuguese were to depart.
The Frenchman has been out of a job since earlier this summer after he quit Real Madrid after picking up yet another Champions League winner's medal.
He's established himself as one of Europe's top coaches, and it seems as though Man Utd want a piece of the action.
If he were to move to Old Trafford, he'd certainly change things up – given how unique Jose Mourinho's style is. He'd likely change a few players, and even try to bring a big name with him to the club.
Zinedine Zidane has typically opted for a fairly standard formation over the last few year, with four defenders and 3 attackers generally linked together by a creative three-man midfield. If he were to move to Old Trafford, that would be unlikely to change.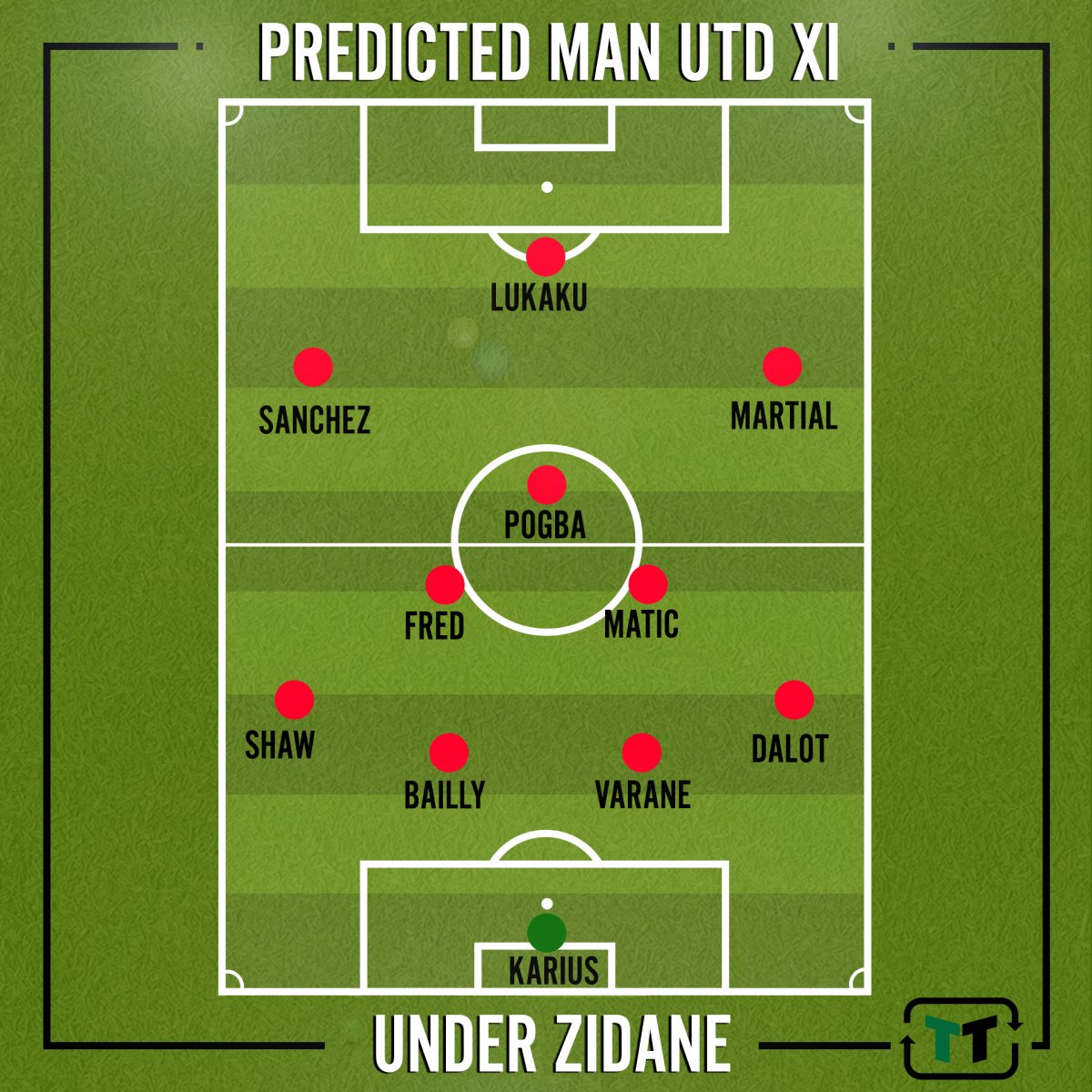 In goal, David De Gea would, undoubtedly, keep his place. He's one of Europe's best goalkeepers, and with or without Mourinho, it's unlikely that he would lose his space.
Defence would likely see the biggest change under Zidane. Diogo Dalot has incredible potential, and though Mourinho is often hesitant to use young players, under Zidane he could flourish. He's impressive offensively, so he'd be a good fit. On the left, perhaps outcasted defender Luke Shaw may get a recall. He's offensive and quick, a bit like Marcelo, and whilst they aren't in the same league – perhaps Zidane could have a positive impact on him. In the heart of the defence, Eric Bailly haas been solid if a little inconsistent since his move to England, but he's lacked a top class partner. Perhaps, then, Zidane could bring Varane with him to Old Trafford. The Frenchman is one of Europe's best defenders, and he'd solve all of the problems at Old Trafford very simply. He'd be very expensive, but he was so important to Zidane's success in Spain.
In the midfield, the Mourinho-signed trio of Paul Pogba, Nemanja Matic and Fred could provide the perfect springboard for Zidane to work his magic, with a decent balance of offence, defence and ball-winning coming from each respective player.
Going forward, Alexis Sanchez and Romelu Lukaku are amongst the best in their respective positions in Europe, and so they deserve to keep their places. On the right, however, perhaps Anthony Martial could finally get the chance that he has deserved all year long. Mourinho hasn't given him a regular role in the squad, and that has stunted his development. However, Martial's talent is clear, and perhaps Zidane would spot that.
A sensational team, undoubtedly, though it remains to be seen as to whether Zidane will be given the chance to build it.
Man Utd fans – thoughts?
Let us know below!
Like what the TT have on offer? Sign up for more notifications!