Premier League round up: 10 most expensive transfers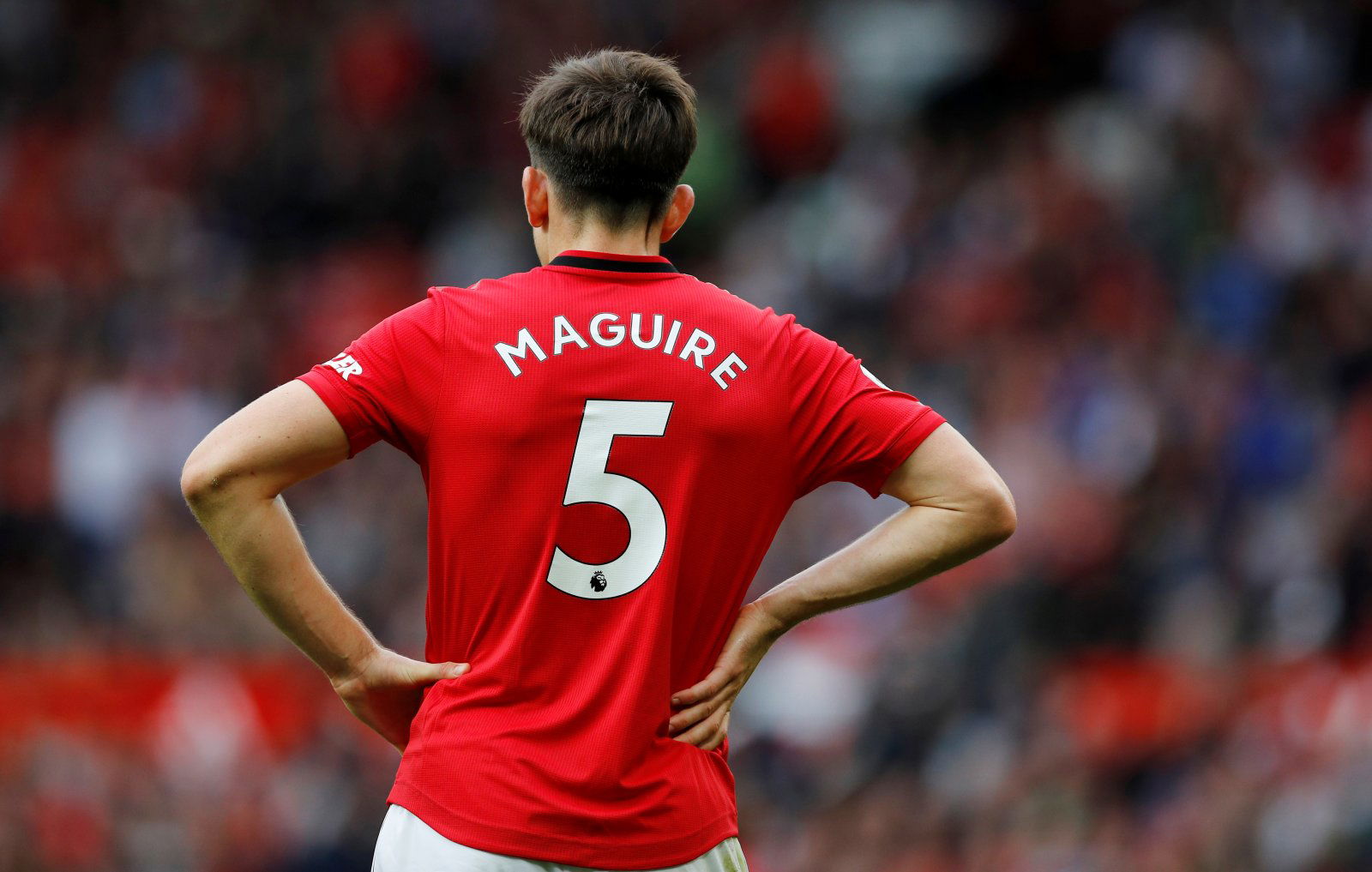 The summer transfer window slammed shut at 17:00 GMT on Thursday 8 August for English Premier League sides with the new campaign getting underway little over 24 hours later.
As is often the case with the English top-flight these days, millions of pounds were spent in the final few hours as teams played stick or twist with their rivals over targets. It was an enthralling evening for followers of the beautiful game with scenes of joy at some clubs while supporters of some others were left heartbroken at the sight of their departing heroes.
Looking on to January – the best football betting sites always cover the odds for the next leading player to switch teams.
We pick through the 10 most expensive summer transfers to take place in the English Premier League. Did your club get their man?
Harry Maguire – Man Utd – 87m euros
Englishman Harry Maguire may only be 26 years old, but the talented centre back became the world's most expensive defender when signing for Manchester United from former Premier League champions Leicester City this summer.
The Sheffield born player made worldwide news, but he must now shoulder the pressures that come with that price tag and there will be no settling in period allowed by the Old Trafford faithful. Fans and some pundits remain unconvinced, meaning Maguire and his teammates must hit the ground running this season.
Nicolas Pepe – Arsenal – 80m euros
Arsenal fans were critical of former manager Arsene Wenger for not splashing the cash in summer to strengthen his team, instead putting the emphasis on youth, but that's not something boss Unai Emery can be accused of.
The former PSG leader had no problem breaking out the cheque book during pre-season and his standout signing was Nicolas Pepe from Lille for 80m euros. A stunning fee. The Ivory Coast international attracted rave reviews during his time in Ligue 1 but a move to Arsenal represents a step up in class. Will his performances justify the price tag?
Rodri – Man City – 70m euros
Something that is now expected during transfer windows is Manchester City throwing money around. The Cityzens won two-in-a-row in the Premier League last season but it's the Champions League trophy they really want, and it seems the board won't stop spending until they are crowned kings of the continent. Will that happen this year?
There's no doubt Rodri will seriously boost their chances of improving on last year's efforts. The 23-year-old Spaniard was brought in from Atletico Madrid where he played a massive part in a successful season for them last time. A central midfielder, he signed for five years and is the club's most expensive signing ever. That's surprising.
Joao Cancelo – Man City – 65m euros
Sticking with the Etihad and Pep Guardiola got another of his targets when buying Joao Cancelo for 65m euros. The manager made no secret of his desire to add this Portuguese star to his ranks and he'll boost the squad as Cancelo can fill in at a few positions, including right back or right wing.
He's a player who loves running with the ball at his feet and will help his new employers turn defence into attack. Man City played some beautiful counter attacking football in the Champions League last season and Joao will enhance that. He's sturdy in defence, can pick out a pass and has already scored for Juventus, Valencia and Inter Milan. One that'll get fans out of their seats.
Tanguy Ndombele – Tottenham – 60m euros
Tottenham fans were up in arms because their club failed to live up to expectations during the 2018 summer transfer window, although it didn't seem to hamper their progress. Spurs finished runners up in the Champions League and grabbed a top four place in the Premier League. They now have a stunning new stadium and seem determined to fill it with some of the best talent in football.
Tanguy Ndombele was added from Lyon for a hefty sum and the 22-year-old Frenchman will be tasked with adding a bit of quality and strength to the midfield. Tottenham have shown they aren't a million miles off winning the league in recent years, will Ndombele prove to be the difference? He certainly made a fast start, setting up a goal with his first touch in a Tottenham shirt.
Aaron Wan-Bissaka – Man Utd – 55m euros
This was one of the most surprising transfers of the summer window, probably met with as much shock as Maguire's deal. Is it a coincidence both signed for Manchester United? Ole Gunnar Solskjaer seems intent on putting his trust in youth and he can't say he hasn't been backed by the board over the last few weeks. Will Man Utd return to the top four?
Aaron Wan-Bissaka is a 21-year-old Londoner who is most comfortable playing at right back where he caught the eye during his three-year stay at Crystal Palace. The Eagles gave Aaron his big break in 2016 and he seemed to flourish under the bright lights, going on to gain caps for England at under 20 and under 21 level. If he can play a part in Man Utd's revival there's no doubt he'll be banging on the door for a full international cap this season.
Youri Tielemans – Leicester – 45m euros
Belgium has produced a quality player or two over the years and in Youri Tielemans they seem to have worked their magic again. The 22-year-old midfielder isn't yet the finished article, but Brendan Rodgers and Leicester City hope he will improve rapidly now he has been given his chance in the Premier League on a permanent contract.
Followers of The Foxes will recall Youri Tielemans spent last season on loan at Leicester from Monaco when scoring three goals in just 13 appearances. There's little doubt, after spending 45m euros on him, the wonderkid will be a regular starter in the middle of the park this season as Leicester aim to drive themselves back towards the European places.
Mateo Kovacic – Chelsea – 45m euros
Chelsea appointed former midfield hero Frank Lampard as manager earlier this summer, but the new boss will be working with one hand tied behind his back for the first part of his return due to restrictions placed on Chelsea's spending. That may have put a few off taking the job but Super Frank seems keen to roll up his sleeves and get on with it.
Chelsea do have money to spend and they used some of it to attract the signature of Mateo Kovacic from Real Madrid, making his loan move permanent. The 25-year-old Austrian played 32 times for the blues last season, without scoring, but he's a valuable member of the squad and adds steel to the centre. That will be needed in the coming months as Lampard looks to make his new recruits much more difficult to score against than they were last time. Kovacic knows the club and the league well and that will ensure he can get right down to business.
Joelinton – Newcastle – 44m euros
It's not often Newcastle make the top 10 list for spending and there's a lot going on behind the scenes at St James Park that suggested they'd be a selling club this summer, but that wasn't the case. The Toon Army were able to welcome new signing Joelinton from Hoffenheim for a sum of 44m euros.
The 22-year-old striker stands at an imposing 6ft 1inches tall and certainly knows where the net is, scoring 15 goals in 60 appearances for Rapid Wein last time. He has been capped for Brazil at youth level but will target a strong season in the world-famous Premier League as his best chance at landing a call up to the senior squad. Newcastle fans will back their man, but they also need to see a return almost immediately as pundits expect the club to be battling relegation this season.
Sebastian Haller – West Ham – 40m euros
West Ham complete our look at the 10 most expensive summer transfers in the Premier League with the purchase of Sebastian Haller for 40m euros from Frankfurt. Another striker with European experience, this towering Frenchman has scored double figures at each of his last two clubs, Utrecht and Frankfurt. A move to West Ham is a rise in standard and he'll surely struggle for quite as much service as he's used to, but he's a natural predator and will win The Hammers points. That that didn't help in the opener vs Man City – but as the striker settles in, he is likely to show his potential.
The France u21 cap is West Ham's record signing and he hit the ground running in pre-season, scoring against Hertha during a 5-3 win. That's exactly what those loyal to the Stratford club want to see but they need him to continue that form when things get serious in August. West Ham aim for a top 10 finish and need all the help they can get.