Tottenham Hotspur are set to travel to Wolves on Saturday evening for a fixture which promises to provide a stern test of their top-four credentials. 
That's not a sentence which is regularly afforded to newly-promoted sides, but the extent of Wolves' success in the Premier League so far this season justifies that praise.
After all, the proof is in the proverbial pudding: Nuno Espirito Santo's side have already pitted their wits against both Manchester City and Manchester United this season, recording a pair of 1-1 draws in the process.
Their counter-attacking style and intelligently executed tactical setup has served to frustrate opposition, who, on paper at least, are vastly superior, and they will need to emulate previous performances against two of the Premier League's most prestigious clubs to stand any chance of coming away with all three-points against Spurs.
Ahead of the eagerly anticipated Saturday evening fixture, Sky Sports pundit Adam Smith produced an in-depth statistical analysis to explain how Wolves managed to claim two draws from their clashes with the Manchester giants.
Smith paid close attention to Wolves' 3-4-3 formation and their strong use of the flanks whilst completing the transition from defence into midfield, but he has made an intriguing observation about Ruben Neves' performance against the champions.
'Neves was busiest for Wolves, attempting a team-topping 34 passes – 23 in his own half – while also winning a team-topping four tackles and making two blocks.'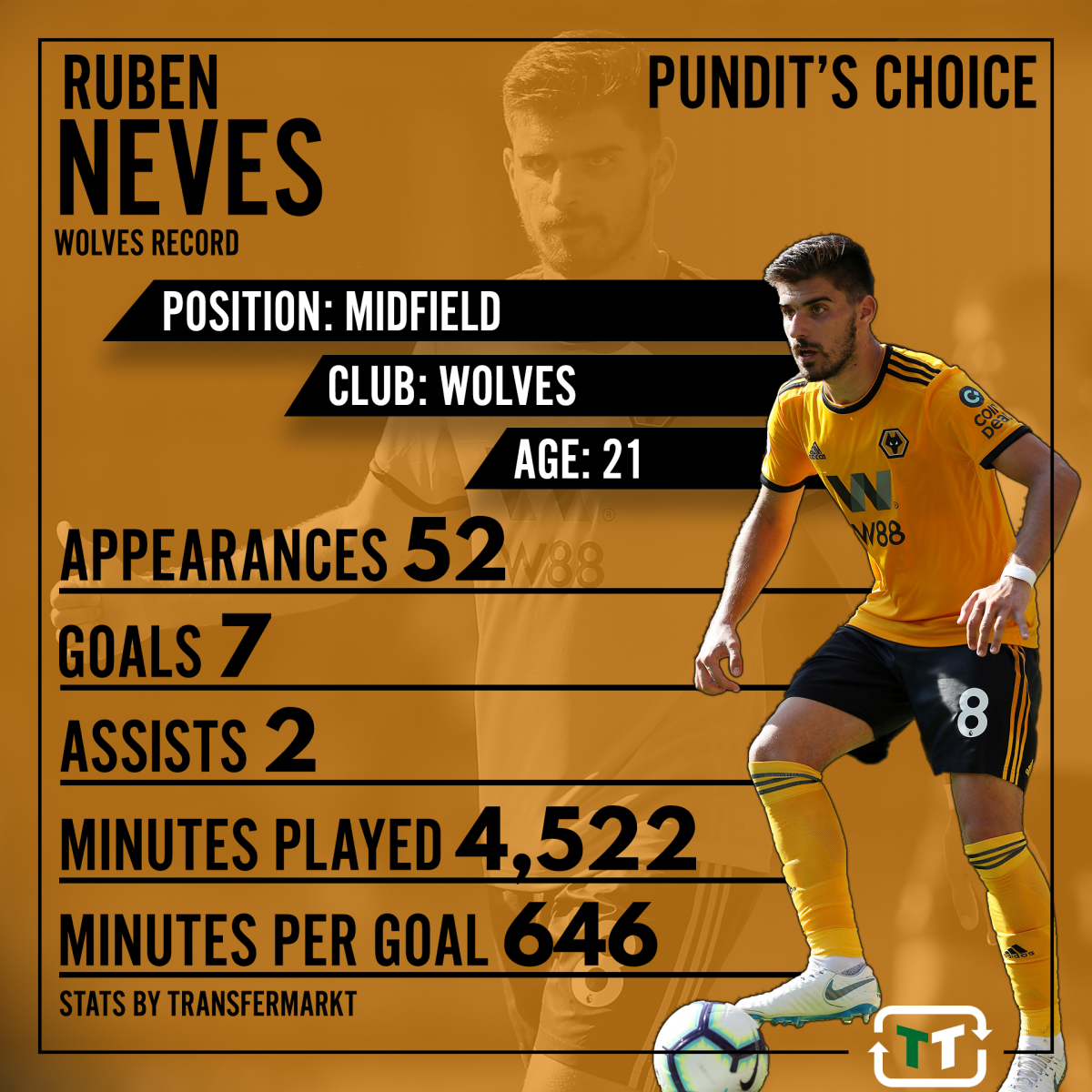 The Portuguese prodigy (valued at £36 million by Transfermarkt) has been lauded throughout the British media this season for the consistency and quality of his outstanding performances, and the raw numerical data presented by Smith clearly illuminates that the stats are there to validate his praise.
Whilst Neves' statistics against Manchester City reveal his all-round importance as a defensive pawn and a deep-lying playmaker, they do not reveal his tendency to pop up with a long-range moment of brilliance.
Neves' only Premier League goal this season arrived on the opening day against Everton when he crashed home a delightful free-kick to level the score at 1-1, and there are a few sumptuous strikes to pick out from his 6 Championship goals last season – including a sublime volley against Derby County which comfortably fell into the extraterrestrial bracket.
Not only is Neves one of the most crucial components of Nuno's Wolves machine, he is a born-winner who possesses the ability to single-handedly shift the dynamic of proceedings with one moment of genius.
Mauricio Pochettino and Tottenham Hotspur beware.
Wolves fans – thoughts? Let us know below!