Chelsea have a problem. Maurizio Sarri is the man that has been tasked with fixing it. And he's missing the most obvious solution to the very issue that could lead to his downfall. 
Sarri came to Stamford Bridge with two tasks: to play good football and achieve success. So far, he's achieved neither. Chelsea's style of play has been different, but it's been no more attractive for much of the campaign, and there's no denying that it has been ineffective in the English top flight.
Usually, Chelsea's play is dominated by possession and sideways passes, and more often than not, they have little to no end product. It's been a little bit like going to a top-end restaurant that has incredibly high reviews, and maybe even a couple of Michelin stars, only to be handed a plain chicken burger after sitting down at the table.
Sarri, so far, hasn't been up to par, but it's hard to place all of the blame on him. It's clear that the Chelsea squad has a number of flaws, and the biggest of these is in the attack. The Blues lack a forward that is capable of scoring goals, with neither Olivier Giroud or Alvaro Morata, thus far, able to do the business at Stamford Bridge.
If Chelsea have aspirations of winning the title race in England, they can't expect to achieve success with a team that is comparable to a car with only three wheels. A new striker is essential.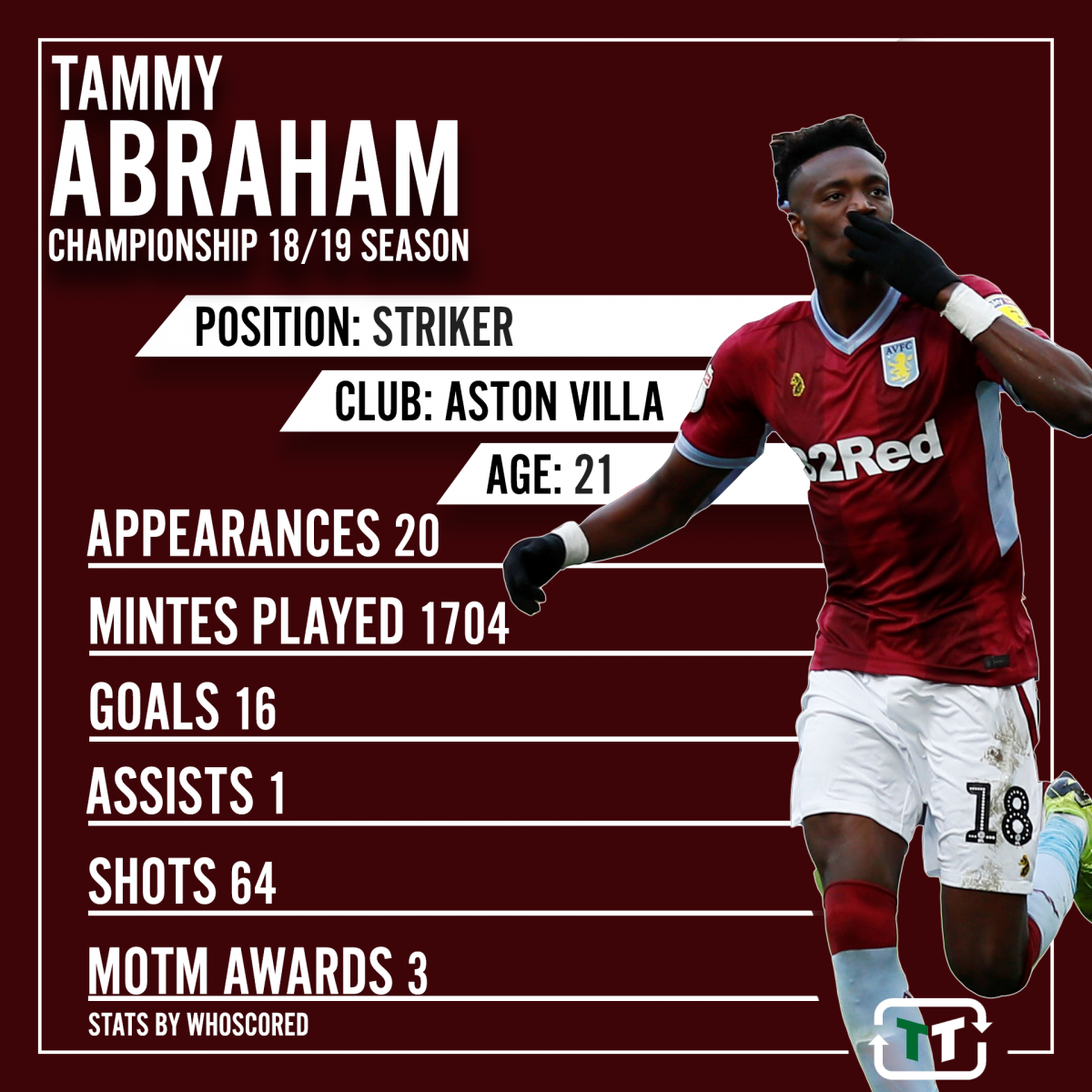 All is not lost, though. Chelsea could have the ideal option within their ranks, but so far, Maurizio Sarri has been unable to spot it. Chelsea's loan army is filled with incredible talent and depth, and perhaps the pick of the bunch at present is Tammy Abraham.
The striker is on-loan at Aston Villa at present, and he's been the equivalent of a v12 engine for a side that had previously struggled to get the engine turning over. He's bagged 16 goals already this term, and you can bet that if he remained at the club, he'd certainly be up there in the race for the Championship Golden Boot.
Chelsea, it is said, have the right to recall him from his loan spell according to Goal, and at this point, why wouldn't they do that?
Sure, the Blues could look away from the club, spent £50 or £60 million and bring in a top class talent that may or may not work (We're looking at you, Alvaro Morata). That would be much easier, as it's worked in the past, like with Diego Costa.
But what's the point ordering a burger when you've got a delicious steak already in the fridge? Abraham has proven time and time again that he's a top forward, and a poor spell in the top flight last season shouldn't take away from his obvious talent.
Chelsea need a goalscorer, and Abraham scores goals. What's not to love?
Thoughts?