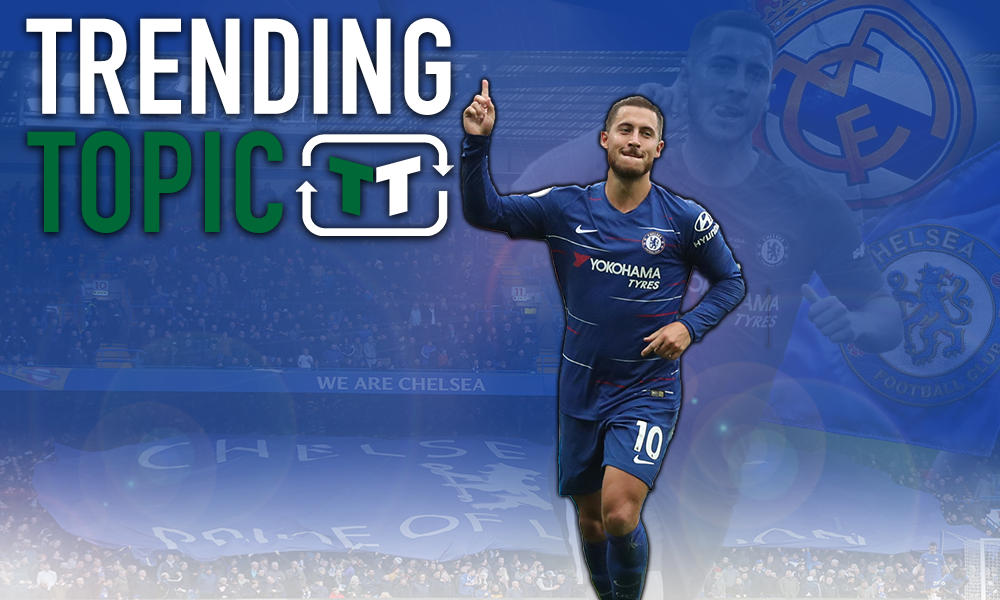 Chelsea are on the cusp of a bit of a wave, and they could yet sink, or they could manage to move past it. After overcoming a significant challenge over the summer, by bringing in Maurizio Sarri, the Blues are now facing an even bigger task.
Eden Hazard's future is looking uncertain once again, with the Belgian revealing that he may want to leave for Spain at some point in the near future.
Whilst he's given Chelsea years of great service, it's fair to say that nobody connected with Chelsea is ready for the Belgian to leave, and so for the club, there is nothing more important than hanging on to him.
Between Roman Abramovich, Maurizio Sarri and everyone in between, they simply must find a way of keeping him at the club.
After all, at present, he's the focal point of this team. Whenever the Blues get the ball, everyone looks up and attempts to find him, be it defenders, midfielders or other attackers. His fine recent form has earnt him the confidence of his teammates, and they know that if he receives the ball, he'll do something special. Maurizio Sarri sets the team up to best suit him, too, with Hazard no longer required to contribute much defensively. He's, instead, given more of a free-role on the left-hand side, and more often than not, he finds success.
He's been Chelsea's main man going forward this term, and having picked up 7 league goals and 3 league assists, it's fair to say that the Blues wouldn't be close to the top spot if he wasn't available for Maurizio Sarri. He's truly indispensable as far as what Chelsea do on the pitch is concerned.
It also extends off the field, too. Hazard is the face of Chelsea, and he's always plastered all over any and all marketing campaigns. In the modern era in which revenue streams are so important, it's vital that the Blues have a figurehead to get people invested, and Hazard is now that figurehead. Nobody at the club comes close to him when it comes to global recognisability and importance financially – and so it would be a huge negative off the field too.
Chelsea's team is being rebuilt at present, and Maurizio Sarri has already laid the foundations. Hazard, at present, is forming the cement of a giant Chelsea structure, and it could crumble to the ground without him in there. Chelsea need to tie him down once and for all, as losing him would be a huge blow that may take years to recover from.
Chelsea fans – thoughts?
Let us know below!