Southampton: Fans oppose Adam Blackmore verdict after Man City defeat
Following a torrid week for Southampton, suffering a 9-0 home drubbing at the hands of Leicester City only to crash out of the Carabao Cup just days later, fans have reacted to Saints pundit Adam Blackmore's verdict on their latest defeat. 
Should Ralph Hasenhuttl be under pressure at Southampton?
Yes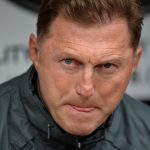 No
On paper, Ralph Hasenhuttl's side have had the worst last few days a team can endure – suffering one of the worst defeats in Premier League history and then bowing out of a cup competition soon afterwards.
Despite their latest 3-1 loss to English champions Manchester City, there were positives to pick out from the performance – unlike their Leicester showing.
For instance, the scoreline could've possibly been even larger given the Cityzens' total dominance of the ball (77% possession per BBC Sport) and 19 shots.
Radio Solent Sports editor Adam Blackmore also tried to look on the bright side and analyse what they did right, stating: "That was better from #SaintsFC – much better as a team. Individual defensive lapses continue to cost them dear, but collectively they stuck to the task and when they were braver in the 2nd half, got rewarded."
In response, a few Southampton supporters disagreed – taking to Twitter and voicing their opposition to Blackmore's views – hinting that it was still not the level they expect.
Here's what they said to Blackmore:
Was okay Adam. We were awful first half and city made loads of changes. Don't get carried away

— neatola79 (@relax792) October 29, 2019
Sorry AB… very rare to disagree with you but we were shocking again in the first half can't think of a single positive. Improved when Long and Boufal left and pressed higher. #AllowedDifferentOpinions 👍🏼🍺

— NorwegianSaint (@NorwegianSaint1) October 29, 2019
@ManCity didn't break a sweat, second string too. I'd take a 4-0 defeat now this weekend. I keep repeating but we are mid table championship at best

— mike willsher (@mikewillsher) October 29, 2019
Better second half the first half was more of the same, atrocious

— 【 T҉S҉ 】 (@ts_ts89) October 29, 2019
If it wasnt for McCarthy,we wouldve lost by 6 or 7.Still such a long way to go and we need some confidence back.Would also help if our manager stopped setting the team out with 5 defenders.

— Paul Williams (@50srule) October 29, 2019
How far have we fallen though Adam when we accept that not getting thrashed is a bonus. I know its man city, but our mentality is totally wrong. I'm frustrated we haven't tried being more expressive with an extra attacker playing as we cant defend,the simple mistakes are constant

— Matt (@saintmattc) October 29, 2019
It's not down to individual defensive lapses when you spend most of the match campers in your defensive third. Obviously any mistakes made will then lead to a goal. We're just offering nothing as a team.

— Francesco Lopez (@FrankLopezCoach) October 29, 2019