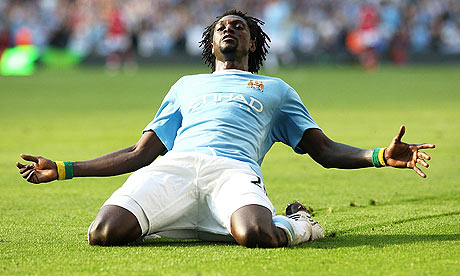 News has broken that Tottenham are in talks with Manchester City over a possible loan move for Emmanuel Adebayor. The ex-Gunner is out of favour at Eastlands and has expressed his desire to leave in January.
Out of favour and questionably out of form. If he does sign for another ckub, whoever they are would have to acknowledge that they were to some extenet making a leap of faith.
I have compiled my reasons why we should/shouldn't sign him. Feel free to debate my opinions…….
3 reasons why they shouldn't/won't sign Adebayor
City would demand that Spurs paid his wages in full which is approximately £160k-a-week. That is more than double the wages of Tottenham's highest earners Luka Modric and Robbie Keane.
He can be very lazy and this saw Arsenal fans getting on his back just before his exit. He also gets caught up in disagreements/arguments with fellow players and he has also fallen out with current manager Roberto Mancini in the past.
The Togolese man was a regular match-winner against Tottenham. He always came up with a vital goal, one of which was a stunning volley that earned him goal of the season in 2007/2008. A player many Spurs fans love to hate and he will have his work cut out if he is to win them round.
3 reasons why they should sign Adebayor
When he is on form and scoring goals, he's as good as anyone. The start he made at City was world class and his confidence is sky high. He's technically gifted, strong in the air and he's got pace.
Adebayor can play as a lone striker as well as with somebody else. He and Defoe would develop a very strong partnership.
He has nothing to lose. Spurs fans already despise him so he can only enhance his reputation, build his confidence and become a leading player in their push for great things this season.