Tottenham fans on Twitter worry for Pochettino's future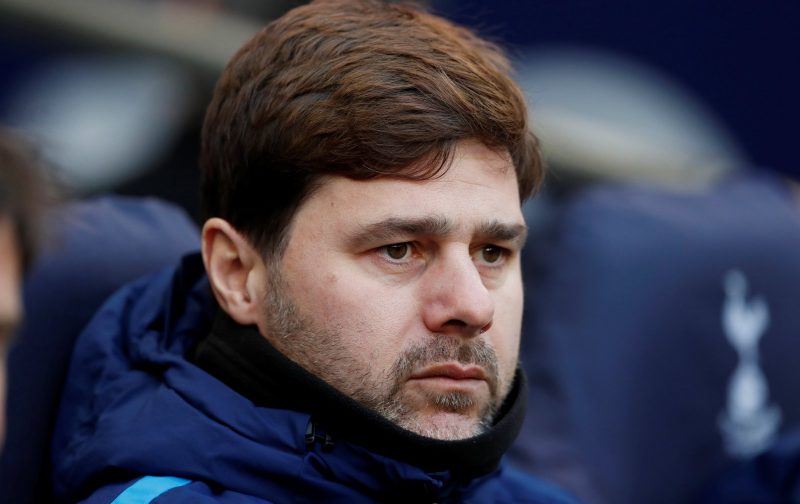 Tottenham Hotspur have been completely turned around by Mauricio Pochettino. The Argentine manager has come in and made them title contenders in just four years, however, according to ESPN, Poch's mood this season is the worst it's ever been, and the Tottenham fans are worried.
Mauricio Pochettino admits his mood this season is the worst it's been during his time at Tottenham even though the club has made it's best ever start to a Premier League campaign. [@BenPearceSpurs]#THFC #COYShttps://t.co/omIeNgZvXc

— Ricky Sacks (@RickSpur) 29 October 2018
Some fans would argue that Pochettino should be pleased, seeing as his side has made the club's best ever start to a Premier League campaign this season. However, when you dig a little bit deeper it's easy to see why Poch may not be as happy as you'd think. His side have had more injuries than any other Premier League club since the summer, they also had the most players in the World Cup semi-finals and they're the only club who didn't make a summer signing.
When you factor these things in, it's easy to understand the Argentine's frustrations. His side are also looking on the brink of an embarrassing Champions League exit after losing two and drawing one of their first three group games. To get an unlikely qualification to the round of 16 of the competition they'll have to either beat Barcelona at the Nou Camp or hope that PSV can get a result at The San Siro, which both seem unlikely. Hopefully, Pochettino's frustrations are short-lived, but at the moment it's hard to see these problems going away.
You can read The Lilywhites' verdict on Pochettino here:
Unless we spend in Jan I believe he will leave in summer let's hope the discontent isn't rolling down into team especially with new contracts being offered simply we need to spend on 2/3 players in Jan and pay whatever clubs want even if it is more then we want

— Ben Archer (@benarcher60) October 29, 2018
This isn't good to hear. He's always been very positive about spurs in past & how good his relationship with levy & club. I hope this is just a warning to levy that he needs funds & club to deliver and not laying the foundation for leaving us in summer.

— gavin (@gavinspurs) October 29, 2018
Real Madrid job will be open soon.

— Will L. (@TestyourWill) October 29, 2018
Hate to say it but I think this is his last season with us. Unless we win the title or CL (which we won't) I don't know what would be keeping him here. Can seem him replacing Mourinho at Utd in the summer. Ugh.

— Daniel Gumble (@DanGumble) October 29, 2018
He's right you know. pic.twitter.com/5yE2n0lmrz

— Mpho Kekana (@Afro_Scot) October 29, 2018
Poch's discontent is concern to say the least. Considering the negatives behind the scenes this season, with the stadium contractors, not Daniel Levy, and the transfer window debacle, we've seemingly faired ok. But it's worrying as PSG will be all ears.

— The Ricky Collins (@RickySpurs101) October 29, 2018
Remember those divs that said he was happy with his summer business?

— Altug Kop WBFF Pro (@AltuKop) 29 October 2018
The fans are beginning to fear the worst with Poch and they'll just be hoping that by some miracle their situation is turned around and their gaffer stays.