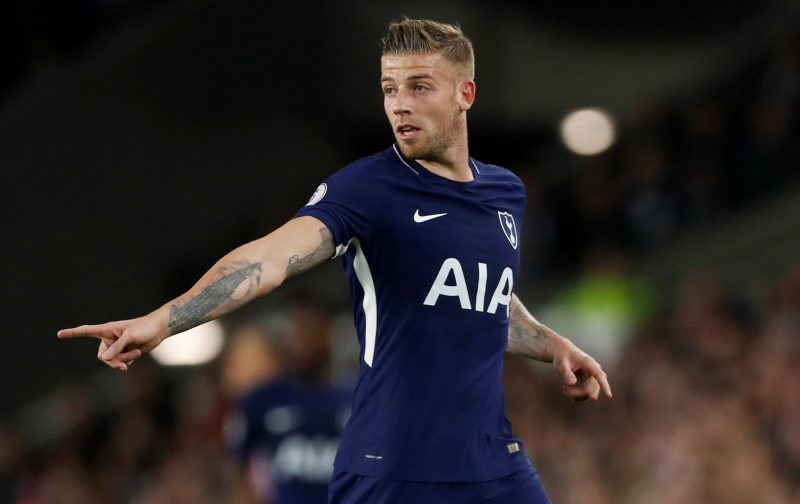 There is officially less than a week left of the transfer window and for many clubs that means crunch time with their business. That particularly applies to Tottenham, who are yet to sign a single player and have an antsy fan base for desperate for incomings. However, some good news is that Toby Alderweireld has claimed he will be "returning to his club" for pre-season.
Tottenham Hotspur centre-back Toby Alderweireld:

"I will return to London this weekend for the start of pre-season with my club."

#THFC #COYSpic.twitter.com/1woYe7afpF

— Last Word On Spurs (@LastWordOnSpurs) 2 August 2018
The last 12 months have been tough for Toby Alderweireld. The Belgian defender missed a lot of the season with a hamstring problem, but as an impending contract issue hung over him, even when he was fit he was rarely selected and he made just three Premier League starts across the whole season. Instead, Poch had opted to go for a partnership of Davinson Sanchez and Jan Vertonghen.
If Spurs do manage to sign Alderweireld onto a new deal it will be just as good as a new signing. Manchester United are after the 29-year-old and the contract situation surrounding him is an interesting one. Tottenham can sell the defender this summer for whatever fee they want, however, his deal expires next summer unless the club activates their one-year extension that they have an option too, although in activating that clause would also activate a £25 million release clause.
You can read the Spurs fans' verdict on Alderweireld here:
Toby is great but I really can't root for him knowing he wants out. I get that he wants and deserves more money but I just wonder if his heart will be in it for the last year on his contract.

— Mike_D (@MikeDBigworm) August 3, 2018
Let's hope that's still the case in two weeks time.

— Timbertony (@ttimbertony) August 3, 2018
GIVE HIM THE MONEY LEVY. HE DESERVES IT!

— THFC Sonny (@THFC61995704) 2 August 2018
What a player. Let's sign him!

— Alternative 9 Review (@TheGrayAreaShow) August 2, 2018
Pay him his money need him for next 2 years

— Barry Nevin (@bazzayiddo) 2 August 2018
Ricky this man needs to stay

— Haaris (@ManLikeHaaris) 2 August 2018
OOOOHHHH YESSSS YA BEAUTYYYY

— Cenk (@ForzaYids) August 2, 2018
We have the best defender in the world, but many don't see it.

— Celso (@MrHobsbawm2) August 2, 2018
Whilst it might seem inevitable that Alderweireld is leaving, the fans are desperate to see the big Belgian sign a contract.