Tottenham's campaign in the Champions League has been far tougher than Mauricio Pochettino would have liked so far. Whilst most Premier League teams have gotten away with not having to deal with too many European stalwarts this year, Spurs have been in the deep end throughout their campaign thus far. 
If facing Barcelona, Inter Milan and PSV Eindhoven in the Champions League group stage weren't enough, their name being drawn out alongside Borussia Dortmund for the round of 16 must have left Mauricio Pochettino scratching his head. Just as he managed to get past one army in the group stages, he's met with another 10,000 men.
However, on Tuesday, his team managed to manoeuvre past the opposition yet again, and in pretty dominant fashion. A 4-0 aggregate scoreline tells a tale of a team in control, and though Spurs didn't really look like they'd lose the game at any point, the reality is that Dortmund posed a very significant challenge for the club in the second leg – as the reduced scoreline would suggest. However, despite Tottenham being unable to match the score from the first leg, their performance in Dortmund was perhaps their most impressive of the season so far.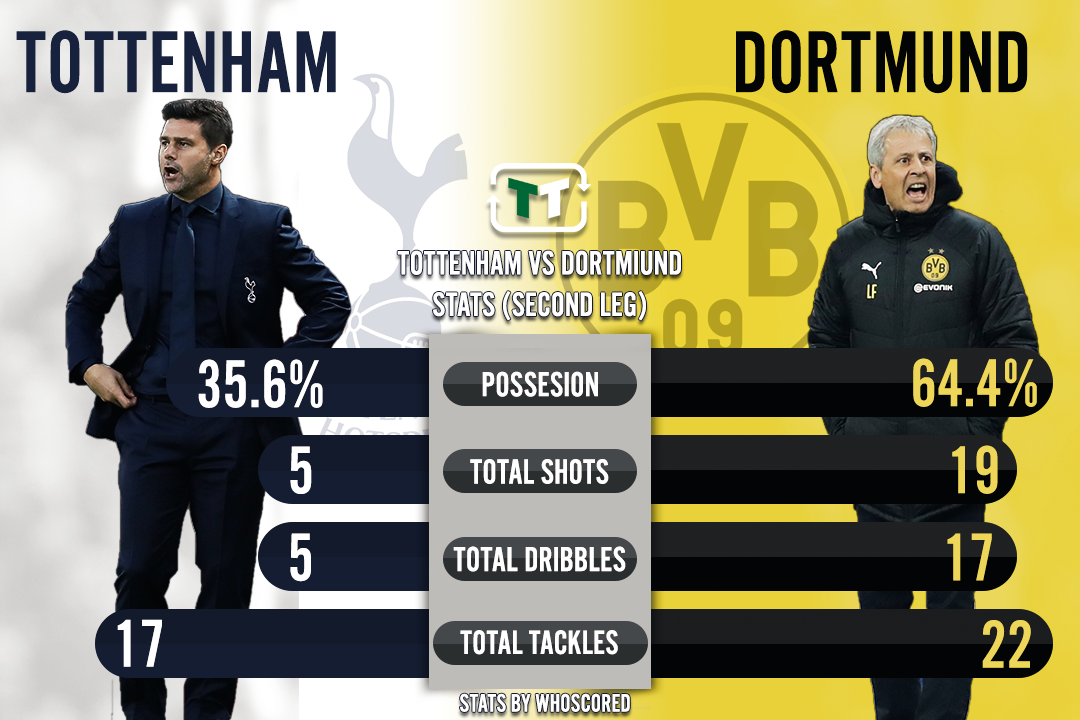 That's because it showed more discipline, more control and more ingenuity than we've seen from Tottenham in a long time. Statistically (as per Who Scored), Dortmund controlled the game. They had more possession, more shots, more dribbles, and more tackles. But that didn't bother Tottenham.
At no point did Spurs look in danger. Dortmund had chances, make no mistake, but nothing that the German giants were able to do would have left fans peeking from behind the sofa. Sure, their 3-0 win in the first half would have given them confidence in the event of a couple of conceded goals, but they never looked in trouble either way.
Comparisons can easily be drawn between Tottenham's clash with Dortmund and their loss to Juventus last season. In the second-leg against Juventus, Tottenham collapsed under the pressure, and their lack of calmness, lack of experience and, indeed, lack of quality was evident. However, this time around, that disappeared. Tottenham never looked in trouble, despite not being in control during the second-leg, and perhaps even more tellingly, they made their few chances count. It's no coincidence that Tottenham's goals in both legs came after sustained periods of Dortmund pressure. That's simply a case of Tottenham knowing when to push out, and when to sit back.
It's not been a faultless season for Tottenham, far from it, in fact – especially in Europe – but Tottenham are a side that continue to develop, and their win over Dortmund was their most evident sign of that yet.
– Keep up with the rest of our Trending Topic coverage on The Tottenham Situation by clicking here… –