Tottenham supporters are somewhat looking forward to the start of the 2018/19 Premier League season, which for their team begins in the North East on Sunday afternoon.
Mauricio Pochettino's men deserve enormous credit for securing a third successive top four finish in the top-flight last time round, having finished third in 2016, second in 2017, and of course third last term. Yet a title challenge still seems a way away for the North Londoners given they ended up a staggering 23 points adrift of Pep Guardiola's Manchester City, a gap they will be hoping to bridge when the new season gets underway this weekend.
Yet Pochettino's side will have to do so with no new additions after a frustrating summer transfer window, although one positive was that they kept hold of defender Toby Alderweireld beyond the English deadline despite reported interest from Manchester United.
And with the first job done, it's now imperative that Spurs retain the 83-times Belgium international beyond the European deadline on August 31, as doing so could well see Tottenham challenge for the title this term.
Ultimately, the 29-year-old has been nothing short of revelation since his move to English football, first with Southampton, back in 2014, with it widely believed that the ex-Atletico Madrid man is one of the best centre backs in the Premier League.
And whenever Pochettino's side have gone close to sustaining a title challenge, it has been when the defender has been at his absolute best, with Alderweireld playing all 38 of their Premier League games in the 2015/16 season as they came third in the table behind Leicester City and Arsenal.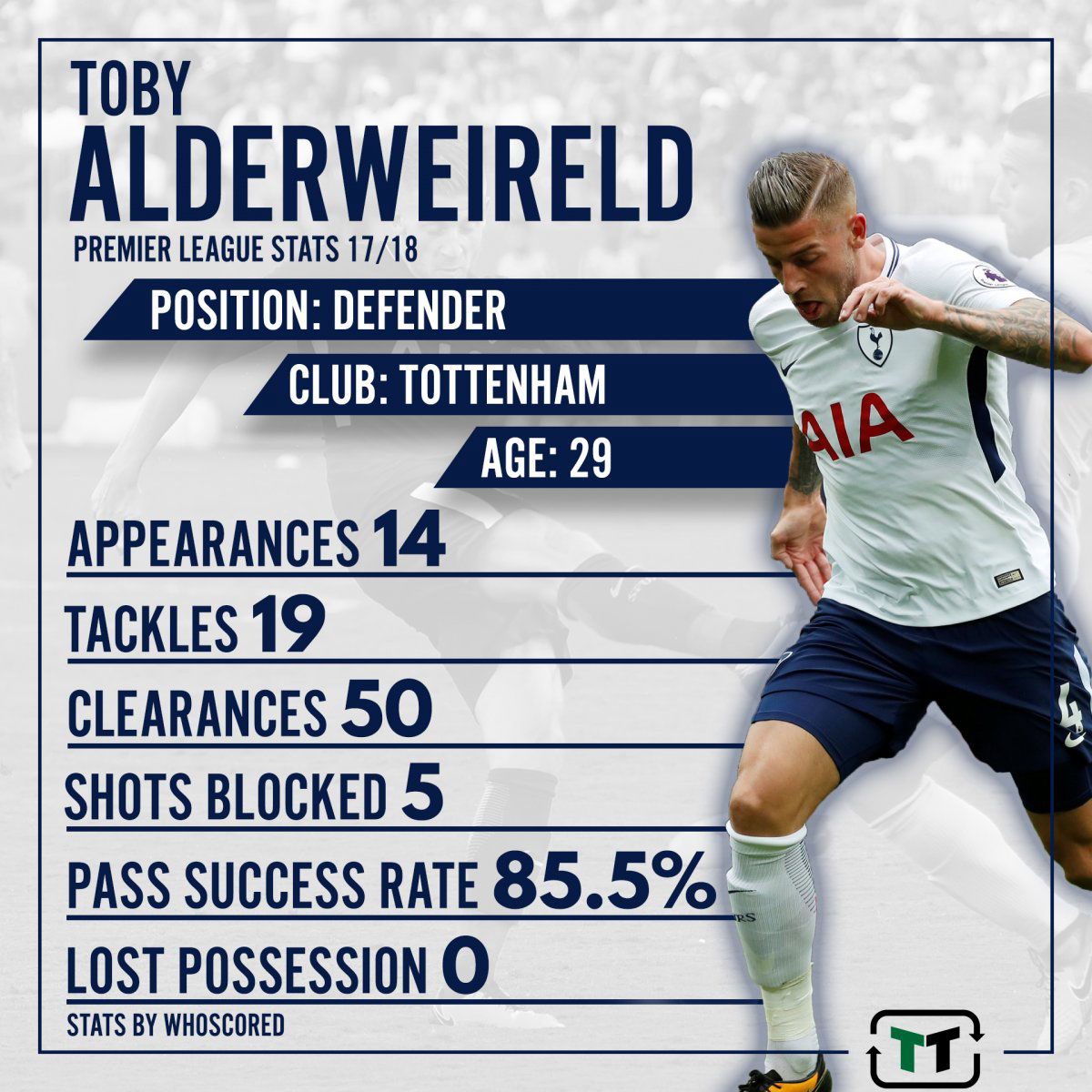 And the Belgian ace then missed just eight games and again struck up a formidable partnership with compatriot Jan Vertonghen in the 2016/17 season as Spurs finished runners-up behind Antonio Conte's Chelsea – Tottenham appear to be a much better side when Alderweireld is part of it.
Yes, Davinson Sanchez deputised magnificently last season to keep the 29-year-old out of the team when he returned from injury, but a fully fit and firing Alderweireld is as good as any defender in the division – Pochettino may even feel that a back three comprising of him, Sanchez, and Vertonghen could work wonders.
The first job has been done in fending off interest from fellow English sides, and thus getting past the deadline, but there are still three weeks of the European window left for Spurs to navigate – they could well be one side that suffers from the earlier close in England given the interest in some of their players from abroad.
But if Tottenham are serious about improving and thus challenging for the title this season, they have to keep hold of the centre back beyond August 31 – do that, and they may just compete for the Premier League title.
Tottenham fans… what do you think? Let us know!