Tottenham supporters in the Transfer Tavern are very much looking forward to the start of the 2018/19 Premier League, which for their team kicks off on Tyneside on Sunday.
Mauricio Pochettino's men deserve huge credit for securing a third successive top four finish in the English top-flight last time round, thus underlining their status as one of the best teams in the country. Yet a title challenge still seems a way off for the North Londoners given they finished a staggering 23 points adrift of champions Manchester City last term, although some big additions over the summer would have aided in their quest to bridge the gap to the Citizens.
However, the English deadline passed on Thursday with no new additions at Tottenham, yet they did retain the services of defender Toby Alderweireld despite reported interest from Jose Mourinho's Manchester United.
And, in an otherwise tough summer for Pochettino's side, retaining the £36 million-rated ace (as per Transfermarkt) beyond the English deadline will surely feel like a new signing for the club.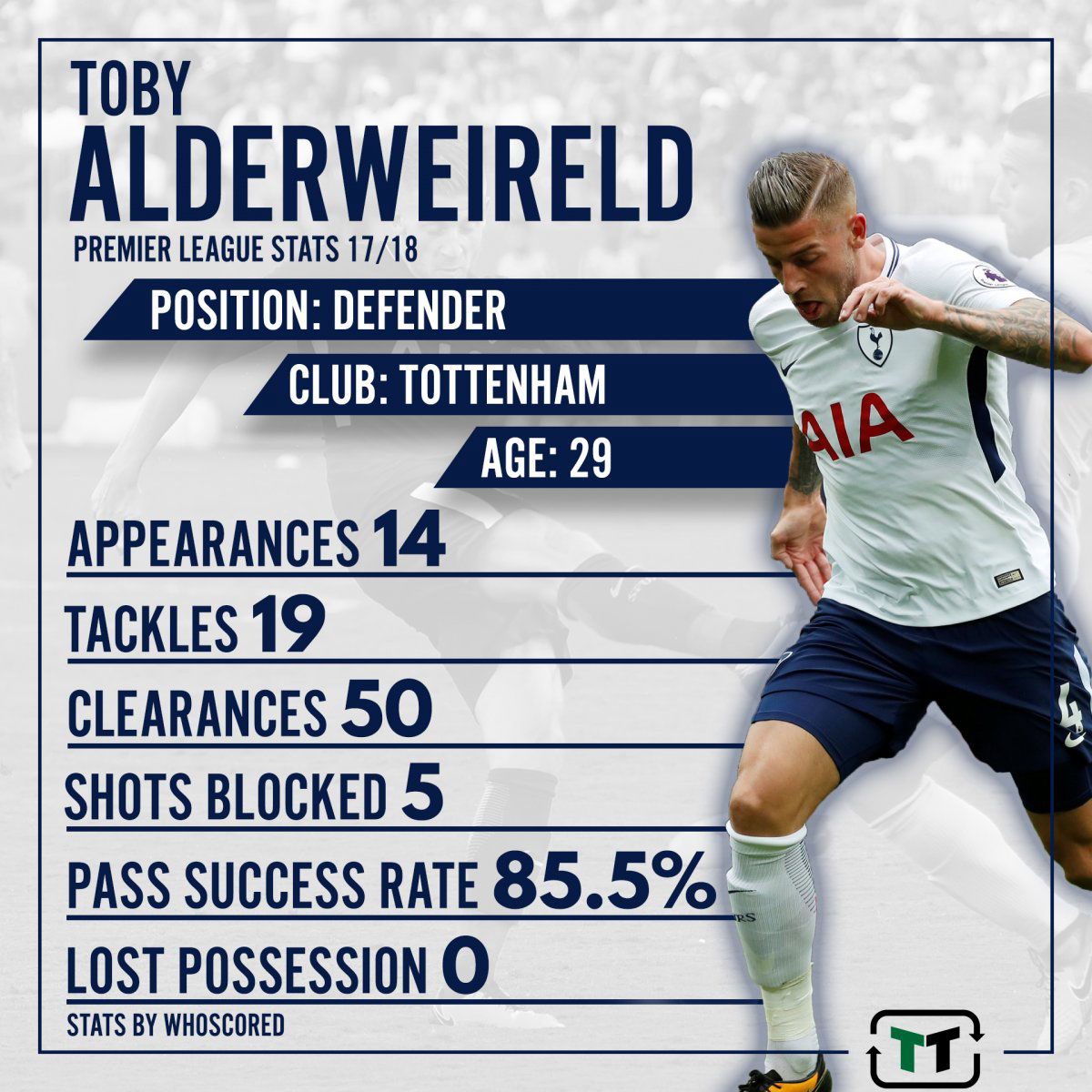 Ultimately, it looked for all the world that the 29-year-old would be on his way out of Spurs this summer, what with he failing to agree a new deal with the North London outfit, and having just a year left to run on his current contract.
And having failed to dispose Davinson Sanchez from the side in the second half of last season after returning from injury, finishing the campaign with just 14 Premier League appearances to his name, it looked as though Alderweireld's three-year stint at Tottenham was coming to an end this summer.
And while there is still time for that to be the case, given the European deadline isn't until August 31, keeping him beyond the English deadline, somewhat against all the odds, is why he will surely feel like a new signing heading into the 2018/19 season.
The 29-year-old began last season in Pochettino's first team before suffering a hamstring problem against Real Madrid in the Champions League back in November, from which he then struggled to force his way back into the side given the fine form of 21-year-old Sanchez.
However, it was clear from Alderweireld's start to the campaign that he remains a huge asset to Pochettino, with the defender failing to lose possession once in the top-flight last time round, and making an average of 1.4 tackles per match – in comparison, Sanchez lost possession three times (which still isn't bad), and averaged 1.2 tackles per match.
And while the Colombia international showed great maturity to seamlessly slot into the Spurs backline alongside the excellent Jan Vertonghen, it's clear that Tottenham would still be a better side with Alderweireld in it, whether that means playing a back three, or one of Sanchez or Vertonghen makes way (likely to be the former).
And after a summer of doom and gloom in failing to land any signings, in turn becoming the first Premier League side to fail to bring anyone in since the window was introduced back in 2003, keeping Alderweireld has at least lifted the spirits among some Spurs supporters.
In fact, retaining the 29-year-old will itself feel like a new signing heading into the new season.
Tottenham fans… what do you think? Let us know!