This article forms part of our Total Duds feature series, which is where Football Transfer Tavern takes a look at a player who disappointed after being signed, using statistical figures and statements from pundits to illustrate how ill-judged the transfer decision has been.
Tottenham don't often spend big, but when they do, they often get it wrong.
Unfortunately, Davinson Sanchez has been no exception so far.
Signing for a value of up to £42m (via The Guardian), Sanchez became Spurs' most expensive acquisition after joining from Ajax in 2017. But judging by his performances for the club since, he is likely to be on the path of other expensive flops such as the 0.2-goals-per-game Roberto Soldado (£27m) and the injury-prone Erik Lamela (also £27m as per Transfermarkt).
Spurs may not have been expected to maintain the heights of their second-placed finish in the Premier League of the previous year, with Manchester United sourcing Romelu Lukaku and Pep Guardiola's Manchester City spending hundreds of millions to challenge then-champions Chelsea.
In fairness to Sanchez, his first season was relatively satisfactory. According to FootyStats, he had a concession rate of 0.64 goals per game in the 2017/18 Premier League, keeping 14 clean sheets during his debut campaign.
However, last year, that rate had increased to almost a goal per game across all competitions, as his clean sheet tally in the league sank to just six.
His performances for the club had even dropped to the point where a clean sheet on international duty led some fans to question why he could not replicate the same feats for Spurs.
It seems the Colombian has often played under pressure, with Jose Mourinho revealing he ordered his Manchester United players to expose his weaknesses in the 2017 Europa League final against Sanchez's Ajax.
Pundits such as Rio Ferdinand have been on hand to call him out for his mistakes, while the man himself recently gave an interview to the Evening Standard in which he even owned up to his bad performances, simply claiming: "I have bad moments, but that's me".
While his heart and attitude seem to be in the right place, these aren't exactly the words you'd want to hear from a record signing – and with Tottenham's league finishes dropping since his arrival, the team are now in danger of outdoing themselves by being placed 14th in mid-November.
Clearly, Sanchez has not been able to improve the fortunes of Spurs and their defence since coming to England, and at £42m, it is difficult at present to argue that Tottenham have got value for money, given their current plight.
Will Harry Kane leave Tottenham next summer?
Yes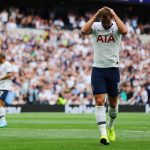 No
Spurs fans, do you rate Sanchez? Can he take you to future success? Let us know in the comments below!