Tottenham Hotspur: Fans agreed with Jan Vertonghen's comments on Adama Traore
Tottenham defender Jan Vertonghen cited Wolves star Adama Traore as the toughest opponent he has ever faced, following his comments to Kentish Town head coach Thomas Looney via Instagram Live, and their exchange was shared by @thespursweb.
Looney is a diehard Tottenham fan and the duo chatted about everything going on in the world of football for more than 40 minutes. The veteran interestingly revealed Traore is the best opponent he has faced in his career so far.
Speaking to the Townies' boss, the Belgium defender said: "I've come across the best players in the world – I've played against Messi, Ronaldo, Suarez and Aguero – but the one where I struggled the most, like non-stop for 90 minutes, was when I played left-back at Wolves against Adama Traore."
He admitted: "I had a very bad game, Traore got the better of me for 90 minutes. "It was crazy. I felt helpless. Then, at the end of the game, I scored the winner and everyone said I had a great game."
Which Spurs star could Adama Traore replace at the Tottenham Hotspur Stadium in the future?
Lucas Moura
Erik Lamela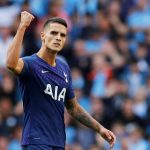 Ever since he arrived at Tottenham  from Ajax for £11.25m in 2012, the Belgian has faced plenty of the world's best footballers, but the Wolverhampton Wanderers star caused him all sorts of problems when the two sides clashed in the Premier League back in December.
Perhaps surprisingly, loads of Lilywhites fans agreed Vertonghen's view on the Spaniard, with one fan dubbing Traore a "juggernaut," and another adding he has a "ridiculous amount of pace".
Scroll down through the rest of the best reactions below…
Adama is such a juggernaut, a "cheat" in football 😂

— Michael Donkor (@mikyonehotspur) May 7, 2020
I Remember he was getting rinsed all game then scored the winner

— ✪ᘜIO ᒪO ᑕᗴᒪᔕO✪ (@N17_18) May 7, 2020
His strong,fast and has a powerful shot everyone hates him

— alfie (@alfie97163584) May 7, 2020
He roasted poor Jan at Molineaux earlier in the season…although Jan had the final word

— Quinihno (@quinihno) May 7, 2020
Had Jan on toast that day fair play to him. Scenes at the end when Jan scored the winner though 😁

— Tristan Jones (@TristanJ74) May 7, 2020
Hard to play against that ridiculous amount of pace don't blame him.

— LM (@lmaisfield) May 7, 2020
Tottenham fans, do you believe Daniel Levy should make a move for Adama Traore in the future? Join the discussion in the comments section!