Tottenham Hotspur: Fans recall Harry Redknapp's drenching after 2010 win over Man City
Tottenham Hotspur uploaded a humorous video on Twitter of Harry Redknapp getting drenched as the club marked 10 years to the day since one of the most iconic moments in their Premier League history. 
Spurs famously beat Manchester City to qualify for the Champions League for the first time back in 2010, and emotions were running high among some of their players afterwards.
David Bentley and a number of Lilywhites players decided to give Redknapp a cool-down during his interview after the game as they emptied a bucket of cold water over the unsuspecting manager's head.
Who is the best Tottenham Hotspur manager in recent memory?
Harry Redknapp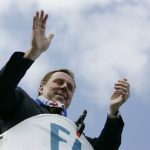 Mauricio Pochettino
The former boss tried to laugh it off but later revealed he wasn't best pleased about the hilarious incident in his autobiography 'Always Managing'. Redknapp wrote: "On camera I had to laugh it off, but privately I was furious. I thought it was disrespectful, frankly, and totally out of keeping with our relationship.
"I was talking, proudly, about the quality of my backroom staff — Joe Jordan, Kevin Bond and the rest — when Bentley invaded the screen with a crowd of jeering players and dumped a full, large container of water over me."
He concluded "I thought Bentley and the other players — all the ones who couldn't get in the team, incidentally — took a liberty. It didn't just make me look bad, it made the club look bad, too. It undermined us when we had just taken a giant step to join the elite."
After being appointed in October 2008, Redknapp went on to take charge of 198 matches for the North London club, winning 98 games, drawing 48, and losing just 52. His final game at White Hart Lane came in the form of a 2-0 win over derby rivals Fulham in May 2012. [via TransferMarkt]
Predictably, plenty of Spurs supporters still have lots of fond memories about Redknapp's reign, as many waxed lyrical about the "great man." One fan added his team were "amazing," while another simply said he is "proper Spurs."
Scroll down through some of the best reactions to Redknapp and his players below…
https://twitter.com/SonTwoThree/status/1257613178856452096?s=20
@Redknapp did a fantastic job @SpursOfficial , from just above relegation to champions league qualifying. Amazing. Got the lads playing to their strengths enjoying football. Still some of the best football I've ever seen a spurs team play !!.

— Brendan Harvey (@brendan_harvey) May 5, 2020
That was our coach. Great man

— Yura Hubaniov (@Reborn1ng) May 5, 2020
Modric and bale😍

— Stefan🇳🇬 (@Sonny7SZN) May 5, 2020
Super PAV loving it

— Alex (@alexwils1980) May 5, 2020
Daniel levy laughing despite wondering if he will get expenses from Harry for the dry cleaning bill.

— Mark N (@spursmjn) May 5, 2020
Tottenham fans, who is your favourite manager of the Daniel Levy era? Let us know in the comments section!