Tottenham: Fans slam Gary Neville after claim Levy and Mourinho are "using each other"
Plenty of Tottenham fans have been reacting to Gary Neville's comments on Sky Sports' Monday Night Football programme, as the Manchester United legend claimed Jose Mourinho and Daniel Levy are "using each other".
Having failed to win a trophy in over a decade, you could forgive Tottenham fans for swooning over the arrival of Mourinho.
As much as the fans adored Mauricio Pochettino, Mourinho arrives with a truly ridiculous CV, including multiple Champions League and domestic league trophies.
Despite this, Neville told Sky Sports on Monday that Mourinho is not in north London to usher in some new era of huge success for the club, but rather as a win-win deal with Levy to get both parties back on track.
"I think this is to protect finances, to protect revenue. This is the new stadium, this is the fact that the team is half falling apart in terms of contracts running out and a little bit of destabilisation, trying to keep them together by appointing a big-name manager," Neville said, as reported by Football.London.
"For me, this is absolutely a bridge for Levy and Mourinho. Jose needed to get back into the Premier League to reset himself, to re-establish himself, to be in London, Levy needed someone who could get the club back up quickly to a level that is acceptable, into the Champions League, this is a marriage of convenience."
He continued: "This has got prenuptial written all over it like you would not believe. They are using each other. I think it's a hard, cold conversation between two men who respect where each other is at but actually never saw each other working together."
Talk about killing the mood. Unsurprisingly, fans aren't too happy with Neville's attempts to completely kill the romance of the appointment, and loads of them have been reacting angrily on Twitter.
You can find some of the best reactions down below, where one supporter said the former Red Devil would "love" Mourinho's tenure to be a short one, while others pointed out that pretty much all managerial appointments are as he described…
He'd really love it wouldn't he? Maybe it's because Manchester United are so poorly run that Mourinho couldn't thrive there? Too hard to believe Mourinho wants to take our beautiful club to where they belong and show what a great coach he still is?

— Ralph Farrugia (@ralphfarrugia) November 26, 2019
You could say that about most appointments. You could sayLevy used Poch to coach players and build a cheap squad. Poch used levy / spurs as a stepping stone to be considered for Madrid/ PSG/ Utd. Pointless narrative

— abid david (@abiddavid1) November 25, 2019
I personally think that is absolute garbage. This is José's last job in England imo. Spurs have everything they need to be a huge club, this is still a project, José knows that. I think he can see himself at Spurs for a good few years. May not work out, but that's how I see it.

— Harvey (@Namdalla1993) November 25, 2019
What a load of garbage from Neville as usual. Every chairman "uses" aka employs their manager to achieve the club's goals, and every manager "uses" aka works for their club to achieve their own goals and the clubs.

— D (@wise0w1) November 26, 2019
Errrrr but isnt that usually what hiring a good manager is?using him to get good results? This Neville fella is some charlatan

— Tron (@TronTromatic) November 26, 2019
Isn't that true about every single manager and owner relationship?!! Thanks captain obvious.

— Pete 🐠⚡️ (@phreba) November 25, 2019
Neville so bitter 😂👌🏻💙

— Kev Hendy (@isleofwightyid) November 26, 2019
Should Tottenham re-sign Gareth Bale?
Yes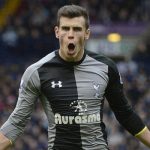 No