Tottenham: Fans worried about Giovani Lo Celso after thumping win over Burnley
Plenty of Tottenham fans are unhappy with one aspect of the big win over Burnley – the absence of summer signing Giovani Lo Celso.
Watch Premier League Football Live and Free on Amazon Prime
You're several goals up against a struggling Clarets side offering nothing, what better time to bring on your out-of-form summer arrival right? Wrong, according to Jose Mourinho it seems.
Despite Spurs' comfortable 5-0 win over Sean Dyche's side, in which Harry Kane and Son Heung-min stole the show, fans couldn't help but notice the absence of Lo Celso, who remained on the bench throughout the match.
The Argentina international has played just 160 minutes of Premier League action since joining this summer on a season-long loan, and he has spent just seven minutes on the pitch since the arrival of Mourinho.
Recent reports have claimed he could leave the club in January as it was Mauricio Pochettino who really wanted him at the club, and plenty of fans are discussing his omission from Saturday's thumping win.
Take a look at some of the best Twitter reactions down below…
Why Jose hating on Lo Celso tho..

— Kipr (@heungminking) December 7, 2019
Great win
Great football
Great goals
Great performance (especially first half).

havent thumped a Prem team like that for a good while.

Lo Celso, if he aint coming on at 5 up he is never coming on. Sadly, dont think Jose fancies him

— Si (@rookieyoung1) December 7, 2019
Jose dont rate Lo celso

— Adam Houckham (@adman1981) December 7, 2019
looks like lo celso's career at spurs is over..

— rugareth (@rugareth) December 7, 2019
Lo Celso has no use. Sissoko will take over from Eriksen apparently.

— Joshua Chiriches 🇷🇴 (@JoshHorsley) December 7, 2019
Skipp coming on before Lo Celso?

I think that tells us all we need to know about where he stands with Jose.

— Kypros Ellinas (@KyprosEllinas) December 7, 2019
I'm really happy Sissoko is still getting game time under Jose, feel bad for Lo Celso though

— Niall🐓 (@NVero99) December 7, 2019
Is Eric Dier destined to leave Spurs?
Yes, get him out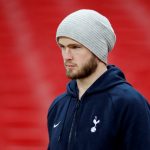 He can turn it around