Tottenham Hotspur: Kevin Phillips believes Spurs will again try to sign Olivier Giroud
Kevin Phillips believes Tottenham will again try to sign Olivier Giroud in the summer after Spurs revealed they have received a £175m loan from the Bank of England. 
Speaking exclusively to Football Insider, the former Premier League striker feels that Jose Mourinho needs to address four key areas if the Lilywhites are going to challenge for silverware next season.
Last month, the club confirmed that Daniel Levy has borrowed money from the Bank of England to ease pressure on finances. The Athletic reported that Spurs are concerned they may lose more than £200m since the nationwide lockdown began.
Tottenham approached Giroud in January but Chelsea boss Frank Lampard put an end to any potential deal. Nevertheless, the Daily Express claimed that Mourinho is still interested in the veteran striker, who is under contract at Stamford Bridge until 2021, as he could be available for £7m this summer.
Phillips told Football Insider's Dylan Childs: "It is tough because it is a lot of money to borrow. You wonder whether the funds are going to be given to Jose. I imagine he will have to dip into the transfer market and wheel and deal.
"If Spurs want to challenge for any honours next year then there is three or four areas which really need to be addressed and that will cost money.
"It looks like Giroud is back on their list so that could be a possible. It would not be a bad price and he would be a good fit as a back-up striker. It will be interesting to see what comings and goings come at Tottenham."
It is hard to argue with the ex-Sunderland striker on this one, as it is fair to say Giroud would fit the bill, given his status as a World Cup winner.
The Frenchman netted 105 times for his old club Arsenal between 2012 and 2018 before making the switch to west London.
Despite his age, the 33-year-old has shown no signs of slowing down anytime soon, as he has continued his impressive form for the Blues, scoring 21 goals and supplying 13 assists in 76 appearances for Chelsea in all competitions, winning the Europa League and FA Cup in the process.
Who should Daniel Levy sign?
Victor Osimhen
Olivier Giroud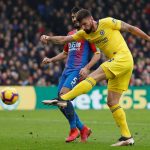 As it stands, Mourinho's side are currently eighth in the Premier League, four points behind Ole Gunnar Solskjaer's Manchester United, with the two teams set to collide next week when football resumes behind closed doors.
The Portuguese is desperate to find a suitable replacement for Spurs talisman Harry Kane, who has not played a competitive match since sustaining a hamstring injury against Southampton in the FA Cup.
All things considered, Giroud's experience at the top levels of the game could be vital as the Lilywhites look to challenge for silverware next season. He may even act as a mentor to the likes of young talents such as Troy Parrott and Steven Bergwijn, which is surely an added bonus.
Tottenham fans, do you think Daniel Levy should sign Olivier Giroud in the summer? Let us know by commenting below!