Both André Gomes and Jack Wilshere were at a crossroads over the summer at their respective clubs. 
Gomes had barely featured all year for Barcelona; Wilshere's Arsenal career was limping on, but he was certainly not a mainstay during Arsène Wenger's final season.
Both players' seasons culminated in them missing out on a World Cup place for their respective countries, Portugal and England. After that disappointment, both men required a move to resurrect their careers.
They are both starting new chapters in their careers at new clubs, so let's compare these two transfers…
André Gomes
It's understandable if Gomes' loan deal to Everton slipped under the radar at the end of the transfer window. It came in a mad flurry, where The Toffees also secured deals for fellow Barca player Yerry Mina and Bernard from Shakhtar Donetsk.
This was some very good business for Marco Silva in the final hours of the transfer window, and looked as though it would make Everton's squad seriously competitive for the coming season.
Five games into the season and the Gomes signing has not paid off yet. In fact, he is yet to play a minute for the team from Goodison Park.
That is not to say that it is not a good transfer, however, as the midfielder is still recovering from a hamstring injury. It is just a plain fact at the moment, that the player is yet to prove the importance of his transfer.
Once he does start playing, Gomes can offer something to the Everton team that they are crying out for. Everton need a play maker from the middle of the field, as they have looked suspect in that area so far this season. Of course, in Morgan Schneiderlin and Idrissa Gueye, The Toffees have a defensively solid midfield combo, but they need that creative spark to link with their lethal forwards. And Gomes provides that.
The downside to this deal is that it is only a loan. He only has a finite amount of time to prove himself at Everton and that will disappoint fans. People want to see a player that is going to last for the team, and potentially guide the club to greater things.
Furthermore, the fact that Everton signed him whilst being injured is another negative. If you only have a player for a season, it may have been unclear how long Gomes would have been out for. His preexisting injury means that his time at the club is being eaten into severely.
Overall, there are positives and negatives with regards to this deal. Of course Gomes brings a skill set and ability that Silva's men need, but time is also precious with a loan deal, and arriving with an injury hampers the quality of this transfer.
 TT Grade B
Jack Wilshere
West Ham got their business done early in the summer, signing Wilshere from Arsenal in early July. This was part of the Manuel Pellegrini revolution at the east London club, as many more signings were to come.
The Hammers need a player to fill the void that will be left by an ageing club legend in Mark Noble. The former Arsenal prodigy has fantastic composure on the ball from midfield, and has the ability to move the ball from defence to attack with ease. This was a very good signing from a club that bolstered their squad heavily over the summer.
Unfortunately, the transfer did not initially pay off, as West Ham went on to lose all four opening game that Wilshere played in. The 34-cap England international did not make the greatest impact in those opening games, and was unfortunately sidelined after requiring ankle surgery.
It is Wilshere's injury prone nature which probably led to The Gunners unloading the midfielder on  a free. Unai Emery obviously did not want a player in his squad that was going to be a liability throughout the season. That is probably what tarnishes Wilshere's reputation as a player.
Nonetheless, it worked out for West Ham. The Hammers would have known that their new man would not feature all the time and it was expected that he would spend some time on the sidelines. With that in mind, it makes a free transfer for Wilshere a very good deal.
Overall, this deal has its positive and negatives. Based purely on his playing credentials, West Ham have done some very good business with this signing. However, almost every player has their baggage, and unfortunately for Pellegrini, Wilshere's is that he is injury prone, something that has hampered his career at Arsenal, with England, and now potentially at West Ham.
TT Grade A-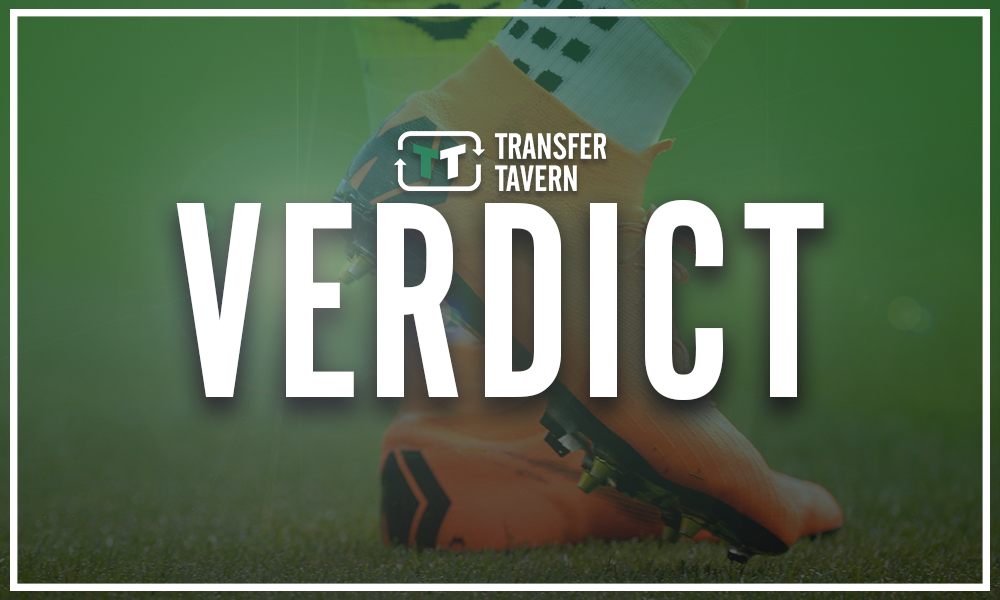 TT Verdict:
Both these transfers are similar because they have their positives and their negatives.
It is impossible to judge transfers, and players, solely by what they do on the pitch, because there is so much more to that. However, if we were to, both Everton and West Ham have done some very good business indeed.
But the reality is that every transfer has its flaws. Unfortunately for Everton, the Gomes deal has a couple of problems. Firstly, the fact that it is a loan deal always affects the quality of the transfer. No matter how much the player impresses the fans at Goodison Park, they will always know that he is only there for a short period, and will eventually be on his way. Secondly, he arrived injured, which eats into his short stay at the club.
Whilst Wilshere didn't arrive injured, he arrived with a long history of being injury prone. Whilst this affects the transfer, West Ham would have been aware of this, which is why the Englishman just shades this transfer battle.
Like what the TT have on offer? Sign up for more notifications!