Everton and West Ham both recruited heavily over the summer, as both clubs seek to become more than just middle table clubs. 
Amongst the overhaul of players, each club got a new manager at the beginning of the season. West Ham appointed Manuel Pellegrini, whilst Everton appointed Marco Silva.
Both clubs made swoops in the final days of the summer transfer window, with new players arriving at the London Stadium and Goodison Park, with forwards, Lucas Pérez joining The Hammers, whilst Bernard joining The Toffees.
Let's compare these two transfers…
Lucas Pérez
When West Ham announced the arrival of Pérez from Arsenal on the final day of the summer transfer window, it didn't exactly stop the press. This wasn't a huge signing. In fact, West Ham seemed to make quite a big deal out of a player that hadn't really set the Premier League alight.
He had spent three seasons at Arsenal, only managing to rack up 11 appearances, and score one goal. It is understandable, perhaps, that he would not feature a lot last season, with the arrival of Alexandre Lacazette and winter signing of Pierre-Emerick Aubameyang, and that is probably why he was loaned to Deportivo.
But Pérez (valued at £5.4m on Transfermarkt.co.uk) doesn't have many excuses as to why he was so unsuccessful for The Gunners in his two seasons prior. He just didn't seem to be suited to the league.
That is why it just seemed odd that The Hammers made a move for the 29-year-old. They already had Marko Arnautovic and Javier Hernández as first choice strikers, with Michail Antonio and new man Felipe Anderson as suitable back-ups. The addition of perennially injured Andy Carroll meant the Spaniard did not look like he would feature much.
And so it has proved to be. In West Ham's opening five fixtures, the striker has only managed two appearances, both from the bench. This looks to be the role that he will have throughout the season, as it seems almost impossible that he will usurp Marco Arnautovic, who appears to be the clubs best player at this moment in time.
Obviously, he has featured so far, meaning that this hasn't been a complete disaster of a transfer. But it is hard to see what the club envisioned when signing him. Perhaps it was just cover for Andy Carroll on his road back from injury, but this seems nothing short of an impulse buy.
 TT Grade C
Bernard
Everton signed Brazilian free agent Bernard in a bumper end to the transfer window, which also saw Barcelona players Yerry Mina and André Silva arrive at Goodison Park.
The thought of signing a 14-cap Brazil international for free would fill any club's fans with delight, and Everton are no exception. The winger's contract at Ukrainian club Shakhtar Donetsk had come to the end over the summer, and he wanted a move away after five years where he had won everything possible to win in the country.
Everton offered the 26-year-old a new opportunity, although he hasn't taken it with both hands yet.
He has struggled for fitness since his arrival, only managing two appearances, both from the bench, in five Premier League outings this season. Moreover, he seems to have been overshadowed by fellow Brazilian and newcomer at the club Richarlison. However, the 21-year-old had already had a stint at Watford, and therefore hasn't needed time to adjust to the Premier League, which is a legitimate excuse for Bernard.
The prospect of a partnership between Bernard (valued at £14.4m on Transfermarkt.co.uk) and Richarlison for the years to come will excite all fans of The Toffees. To get both players at relatively young ages, means that there is a great future for both of them. The fact that Bernard arrived for free, unlike Richarlison's £50m price-tag, highlights how successful this bit of business was.
However, the very fact that Everton were able to sign a free agent right at the end of the transfer window begs that question as to why other clubs did not make a move for him. There must be something looming over the player's head that makes clubs disinterested, otherwise he would have been snapped up at the beginning of the summer. Nonetheless, this is still great business for Everton.
TT Grade A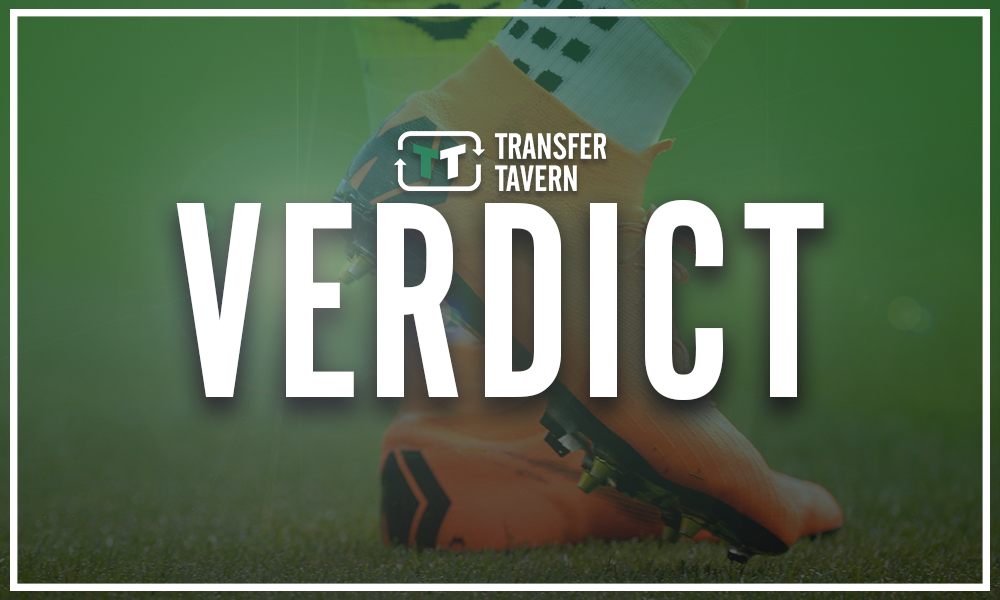 TT Verdict:
No matter which way you look at this one, Bernard has beaten Pérez in this transfer battle.
In terms of potential, Bernard is still reaching, or at, his peak at the age of 26. On the other hand, the 29-year-old Pérez may not improve much more at this age.
In terms of value, while £4m is not a huge amount of money at all to be paid by West Ham, a free transfer by Everton will always win this one.
Finally, in terms of ability, Bernard is an unknown quantity in the Premier League, no one knows whether he will be a success or not. Pérez, on the other hand, has a proven track record in the league, although not one to be admired.
Like what the TT have on offer? Sign up for more notifications!