One of England's fiercest rivalries, the two Manchester clubs United and City go head to head tonight in a mouth-watering affair. One chasing the title, the other a spot in the Champions League. It's all up for grabs, but who will take the opportunity remains to be seen. 
Both teams are far superior in attack than they are in defence. Indeed, City recently conceded three at the hands of a 'Kane-less' Tottenham to see them discarded from the Champions League. United, on the other hand, were handed a humbling by Everton in a 4-0 defeat, in which stating United defended like schoolboys would come as a compliment.
City certainly come into this game as hot favourites and it must be said that their defence has indeed improved this season. They have only conceded 22 league goals, a total bettered only by Liverpool. United, on the other hand, have conceded 48 goals, already 20 more than last season.
This is a game that guarantees chances. Both keepers will have to be on top form. Fortunately for both, they each possess a 'keeper of the highest quality. But who's better, David de Gea or Ederson?
Let's take a further look below.
Ederson
City signed Ederson for a whopping £34.7m in 2017 on a six-year deal. They had previously suffered with a somewhat unfortunate selection of 'keepers, the likes of Joe Hart and Claudio Bravo simply not up to the task. The acquisition of the Brazilian has proved a masterstroke, however.
In just two seasons, he has racked up a severely impressive 32 clean sheets, conceding only 48 goals. When you compare that to United who have conceded the same number of goals this season alone, that makes for impressive reading.
The stats are perhaps skewed, however. Ederson has only faced 78 shots this season, the lowest of anyone in the top six. He does have a save percentage of 67.9%, however, placing him fifth in the league.
Ederson isn't in the team just to make saves, however. Importantly, the South American stopper has proven to be equally as adept with his feet as his hands, a quality prioritised by Guardiola. Travel back to the Camp Nou, 2016. City were at the hands of a 4-0 thumping, Barcelona running riot at the expense of a torrid Bravo, who both gifted Barcelona a goal trying to play out from the back and was later sent off for handling the ball outside the box.
Undoubtedly, he has turned out to be a significant purchase. Should City go on to win the league for a second successive season, a fair share of the plaudits will surround Ederson.
TT Grade: A
David de Gea
David de Gea arrived in Manchester in 2011 after a £19.8m deal was agreed between United and Athletico Madrid. At the time, this was an astronomically high fee for a 20-year-old keeper. Despite initially struggling with the physicality of the Premier League, de Gea has emerged as one of, if not the best custodian in world football.
This season has undoubtedly been the most difficult in recent times for the Spaniard. De Gea was almost invincible last season, with an astonishing save percentage of 81.2%, conceding just 28 goals. His stats have somewhat declined this season, however, lowering to a save percentage of 69.8% and conceding 48. The blame cannot be solely attributed to de Gea, with United spending much of the season in disarray. He has also faced 159 shots on goal this season, the third most of any net minder.
Strip the stats away, however, de Gea has saved United time and time again over the years. He produced perhaps the display of the season against Tottenham in a 1-0 win. It was a crucially important performance which kept Ole Gunnar Solskjaer's hot streak going.
De Gea is now valued at £63m (TransferMarkt), but it would surely take a world-record bid for the Spaniard to even let United entertain the thought of his departure.
As well as being more than capable with his feet, de Gea regularly produces sublime saves from all angles. He must surely be rated as the best keeper in the world. The only question is, how long can United hold onto him for?
TT Grade: A+
The Verdict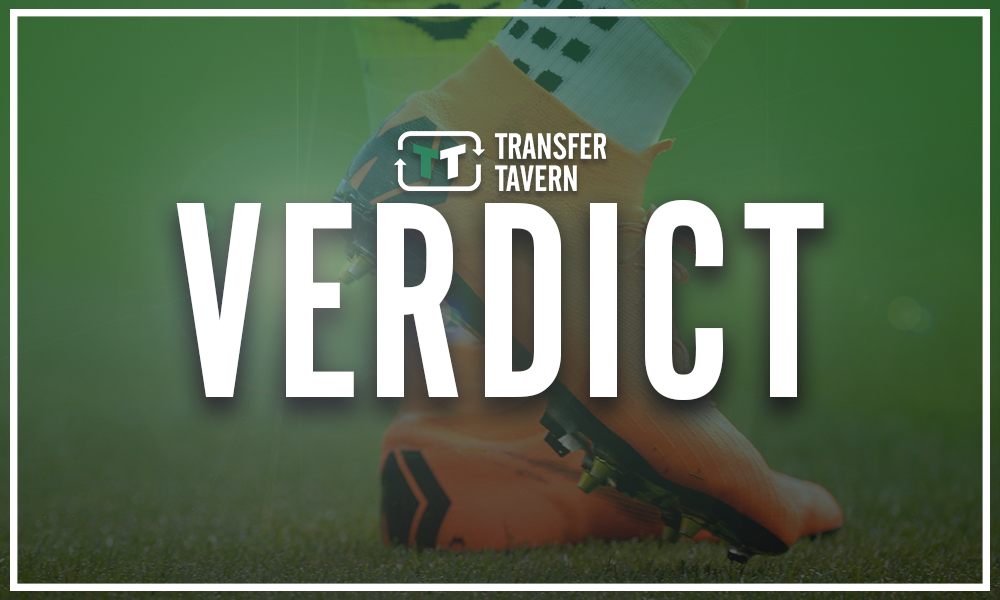 There we have it, de Gea takes this one.
It's not overly surprising, given the form and reputation of the Man United 'keeper. In a season where United have not been at their best defensively, de Gea's presence has been even more vital. Despite the remarkable impact Ederson has made, this was one he was never going to win.
The fact De Gea cost just £15m less, even considering the change in the market between the two signings, is remarkable.
United and City fans, what do you think? Should Ederson be given more credit here, or is de Gea simply the best keeper in the world?