Unstoppable: This Liverpool attack could help fire Klopp to PL glory including Daniel Sturridge
Liverpool's attack was the most impressive facet of their team last season. Between Roberto Firmino, Mohamed Salah and Sadio Mane, nobody could hold a candle to the domination that the Reds offered. Salah, in particular, bagged over 30 league goals, but the contributions of Firmino and Mane cannot be undervalued.
With Firmino their main man going forward, he settled into more of an assist-based role for the Reds, and he often picked up the ball and moved it forwards to leave the glory to others. Still, he's crucial for the club, and he will continue to be going forward – even with the emergence of Daniel Sturridge.
Sturridge's Liverpool career looked over last season, but he's returned to the fold this term under Klopp, and he has looked simply tremendous. Naturally, then, the more he scores – and he's got two in the last week alone – the more the calls are going to come for him to be given a chance ahead of Firmino.
However, what if Jurgen Klopp didn't have to choose between the pair? What if he opted to play them both – how would that work?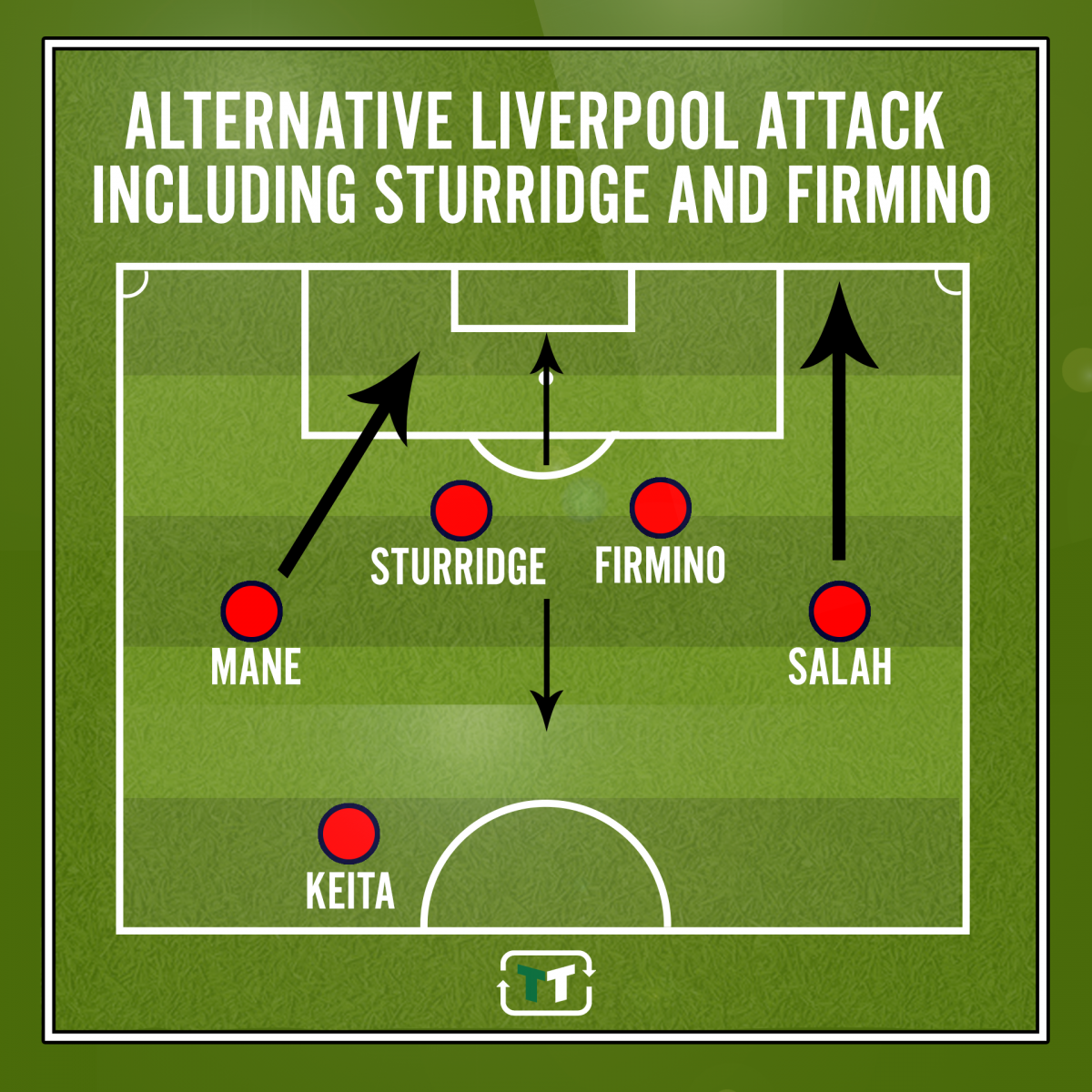 Well, you'd expect the formation to change, as it would make little sense for either one of Sturridge of Firmino to play out of position. Perhaps, then, a 4-2-2-2 makes sense. There, Naby Keita could serve as the box to box midfielder offering support to the players both ahead of him and behind him – whilst two attacking midfielders and two forwards sit ahead.
Mohamed Salah was fantastic last season, and no amount of poor form over the next few weeks is going to reduce his importance to this team. Lethal going forward with electric pace and tremendous technical ability, combined with his uncanny knack of getting into dangerous positions, there is nothing that he can't do. He's bagged 3 league goals this season which is not a tally that can be ignored, and he'll likely only improve as time comes. In this role, he'll be required to do more assisting than scoring; but he's more than capable of that.
It's a similar tale for Mane. The Senegalese hasn't enjoyed the best season, but his quality is clear for all to see. He's a brilliant crosser of the ball, and if he's able to make use of his lightning pace to get into dangerous areas and get the ball into the box to the strikers he's alongside – then Liverpool could be lethal.
In the attack, as mentioned, Klopp could genuinely call on both Firmino and Sturridge. Sturridge, of course, enjoyed the best year of his career alongside Luis Suarez in this role. Utilising two forwards allows brilliant link-up play, whilst it also allows players the share the load when it comes to scoring goals. Roberto Firmino would, naturally, be the deeper of the two, given the Brazilian's ability with the ball at his feet, but Sturridge is also justs as capable in that role.
Making use of his excellent pace and lethal finishing, Sturridge would have players all around him that could offer some service, and as we've seen already this season, if you give him a chance, he will score. He's rated at just £13.5 million by Transfer Markt, but if Sturridge performs, he'll quickly shoot up in value, and Liverpool would have themselves a hidden gem.
Let's not forget, too, that Firmino bagged 15 league goals last season, and so he's more than capable of making an impact in that more advanced role too.
This attacking quartet has goals everywhere. Sturridge has proven his worth this season, whilst Firmino, Mane and Salah were incredibly potent last year. The best form of defence, they say, is offence – and the Reds would struggle to find a more lethal combo.
Liverpool fans – thoughts?
Let us know below!