West Ham: Fans love idea proposed to board about changing the stadium
Many West Ham United fans are loving an idea put forward by a fan page on Twitter with how they can redevelop the London Stadium to make it a more pleasant experience.
Currently the owners receive a lot of criticism around the stadium because of how far the fans are away from the pitch. It was not an arena purposefully made for football as it was made for the London 2012 Olympics, via theLondonStadium, so it has a running track around the football pitch.
This not only makes it hard for some to see what exactly is going on, but also ruins the atmosphere and teams who play against the Irons are not as fearful as when they turned up to their former home, the Boleyn Ground.
The idea by West Ham Latest was to push the stands forward and remove the running track, so that fans are closer to the pitch, and it has received great praise from the fanbase.
Do you wish the home stadium was still Upton Park?
Yes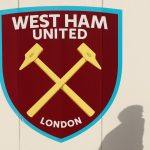 No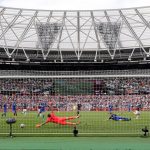 The side have only won 27 games out of the 71 they have played at the ground since their move at the start of the 2016/17 campaign, via Soccerway. It is not the best of records, and the West Ham faithful will hope that the club can sort out their home form when football returns.
Here is what fans had to say following the tweet:
This is how I want our stadium to look. Make it happen @davidgold ! pic.twitter.com/Tq5WNzMLjw

— West Ham Latest (@westham_latest) April 29, 2020
Nice, I'd have some of that!

— BeansOnToast (@200belligerents) April 29, 2020
Can you imagine the atmosphere!!!!… would be while new ball game for team fans and club

— andrew wickstead (@AndrewWickstead) April 29, 2020
Love the visionary

— Tom K (@thomasking1012) April 29, 2020
That's more like it.

— Pouk Hill Prophetz (@HillPouk) April 29, 2020
If it was like this I'd start travelling to home games again, trouble is it ain't our stadium.

— Steve Mitchell (@SteveMitche11) April 30, 2020
The biggest problem we have is owners that won't even explore the options! They're happy with how it is now and would never spend money to make the necessary changes!!! @davidgold

— Daniel Bolan (@daniel23bolan) April 30, 2020
What do you think of the stadium proposal West Ham fans? Comment below!