West Ham United: Fans love video of Pablo Zabaleta analysing Jeremy Ngakia's performance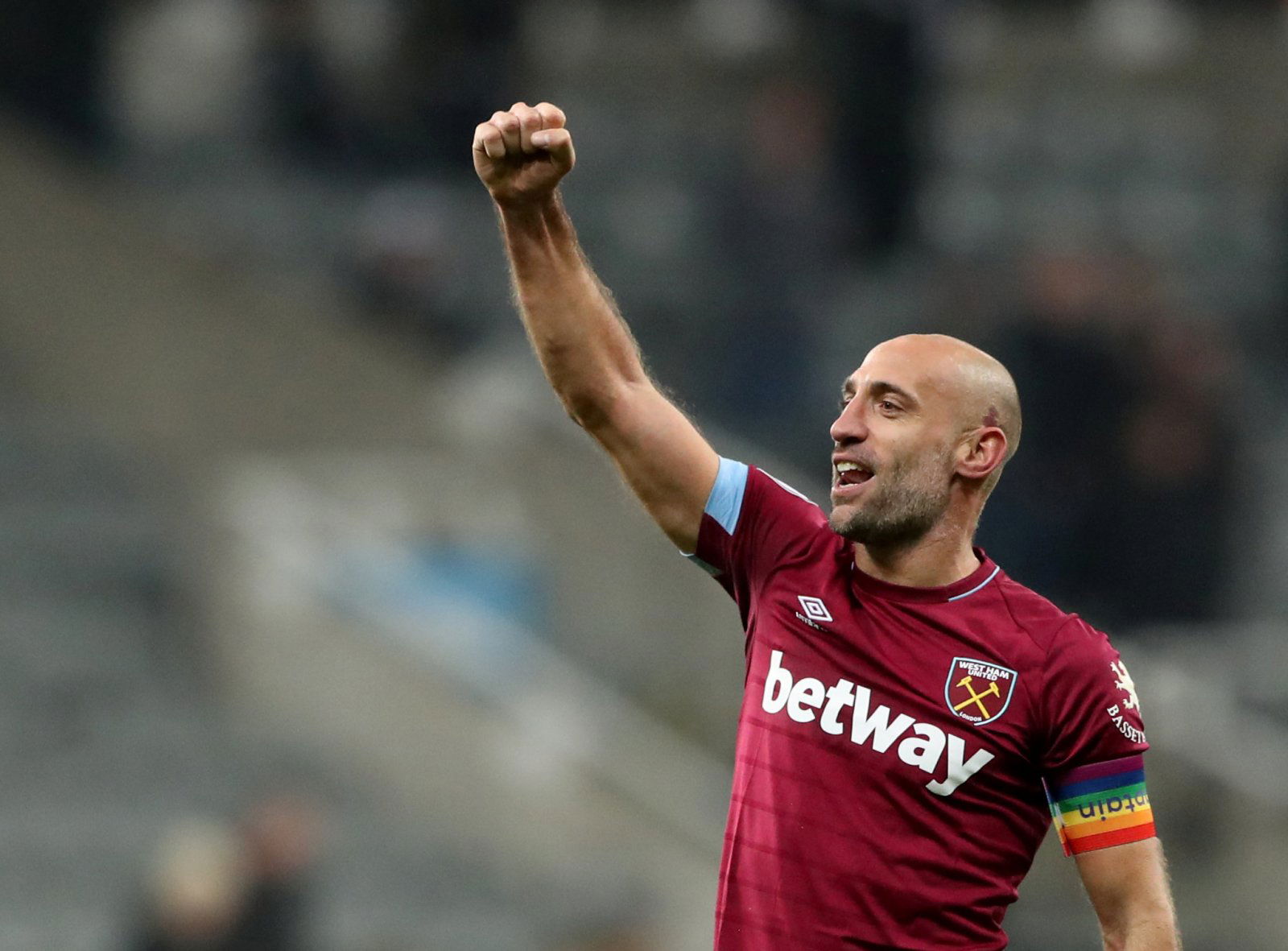 A lot of West Ham fans are appreciating how important Pablo Zabaleta is to the squad after the club tweeted a video of him with young prospect Jeremy Ngakia, in which he analyses the young right-back's performance in his debut against Liverpool.
Tight-back Ngakia is 19 years old and has made four appearances via Transfermarkt. Indeed, surely if there is anyone who the young player wants to be learning from, it should be Zabaleta, who enjoyed his best spell in the Premier League at Manchester City.
Zabaleta signed for on a free transfer in July 2017 and has made 79 appearances for the club since. (Transfermarkt) The 35-year-old Argentinian played 333 times for the blue side of Manchester, winning two Premier League titles, one FA Cup, two League Cups and one Community Shield.
Even though the veteran has to settle for a place on the bench, it looks like he is happy at West Ham and is enjoying his time 'coaching' others who are just beginning their footballing careers.
Here are what some West Ham fans have said about Zabaleta:
🗣 "Not many players at your age go to Anfield, one of the toughest places in England, and put in a performance like that."

🎥 With vast experience to offer, @pablo_zabaleta goes One-To-One with Jeremy Ngakia on the 19-year-old's impressive Premier League debut.

— West Ham United (@WestHam) March 11, 2020
Have to say Zabaleta has been one of the best signings for the club just due to his ultimate professional attitude, I'd love to keep him at the club in some capacity once retired as he seems like someone who can add value to lots of players

— Charlie W (@Chazzawatts) March 11, 2020
Love this from Zaba! What a great guy 👍

— Matthew Edge-Wilkins (@mattedgewilkins) March 11, 2020
What a guy. Some would be bitter of a young player coming in taking his spot in the squad, instead he's mature enough and clearly a nice enough bloke to share his experience and help the new breed coming through.

— M.Robson (@M_K_Robson) March 11, 2020
And he should use ALL of these last couple months of the season to work with Zabaletta and get all he can out of him.. Zaba has been one the best RB's the league has ever seen and he can still do a lot in terms of positioning etc just the body that can't follow anymore! #Learn

— RickyG89 (@Ricky_Gavin) March 11, 2020
That is exactly why Zaba deserved his extra year. What great words from a great professional to our youngsters. 👏🏻👏🏻👏🏻 class act @pablo_zabaleta

— Muzza ⚒ (@muzza210) March 11, 2020
Lad's taken his place in the team in his final season, and he responds like this. @pablo_zabaleta , a complete class act mate. Top man, an example to all footballers.

— STUART PIPER (@westhambythesea) March 11, 2020
West Ham fans, would you give Zabaleta another contract? Comment below!