It hasn't been the best season for West Ham so far for Manuel Pellegrini. Having moved back to England from China over the summer, the Chilean boss knew he had a sizeable task on his hands.
West Ham have underperformed for years now, and last season, under David Moyes, they stagnated considerably. Avoiding relegation was great, but for a club like West Ham, that's hardly where they should be aiming.
Unfortunately, it's been more of the same so far this season. Despite spending big over the summer, they're struggling to make an impact in the English top flight, and they are, currently, still looking like candidates for relegation.
That's only worsening at present, too, owing to a loss to Tottenham over the weekend. They offered little fight against the Lilywhites, which is undoubtedly a step backwards.
However, the result wasn't the only negative to come of the game from the perspective of the Hammers. Andriy Yarmalanko is set to miss six-plus months owing to an injury suffered during the game.
On first glance, this is a big problem for West Ham, but upon further inspection, this is truly a disastrous piece of news for the Hammers.
Manuel Pellegrini could get a strong 5-a-side team out of the players that are currently unavailable for selection.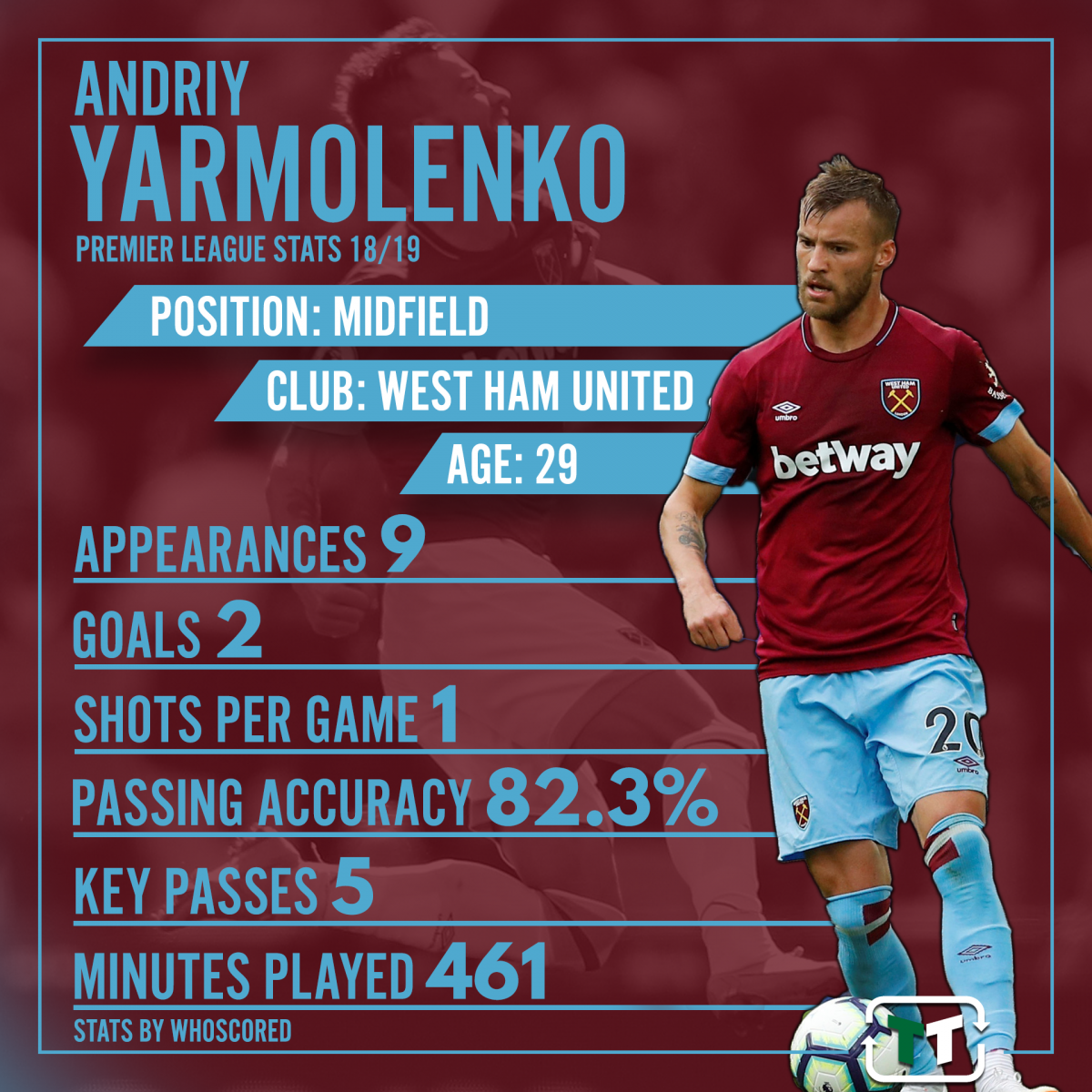 First and foremost, we must refer back to West Ham's current run of form. They're in 14th place this season, with just 2 wins to their name. They've also lost their last two games, and they sit just two points clear of the relegation zones. At any point, just one game could leave them crashing down the table, and on current form, that one defeat doesn't look too far away. So, it's pretty clear that for the Hammers, the last thing they need is fewer bodies to be able to make an impact; particularly bodies that serve to improve their offensive fortunes.
Add to that the number of injuries that the club already have, and there's a bit of a problem. West Ham seem to pick up more injuries than most in the Premier League, and though the reasons why are unclear, the results are evident. Between Andriy Yarmolenko, Winston Reid, Manuel Lanzini, Andy Carroll and Jack Wilshere, Pellegrini could get a strong 5-a-side team out of the players that are currently unavailable for selection.
Let's not forget, too, the sheer quality that Yarmolenko possesses. The Ukranian had a slow start to life in England, but now it's clear why the Hammers brought him in. Offering electric pace, technical quality, directness and a goal threat, he's been a key part of a West Ham attack that has looked threatening throughout the season so far. Is he the complete player? Certainly not, but he's an individual with bags of talent.
For West Ham, then, this isn't just another injury. It's a long-term injury to a player that, undeniably, would have played a key role for the club over the coming weeks and months. If Pellegrini's task before was hard before, it's far tougher now.
Thoughts?