What does the future hold for Tom Davies at Everton?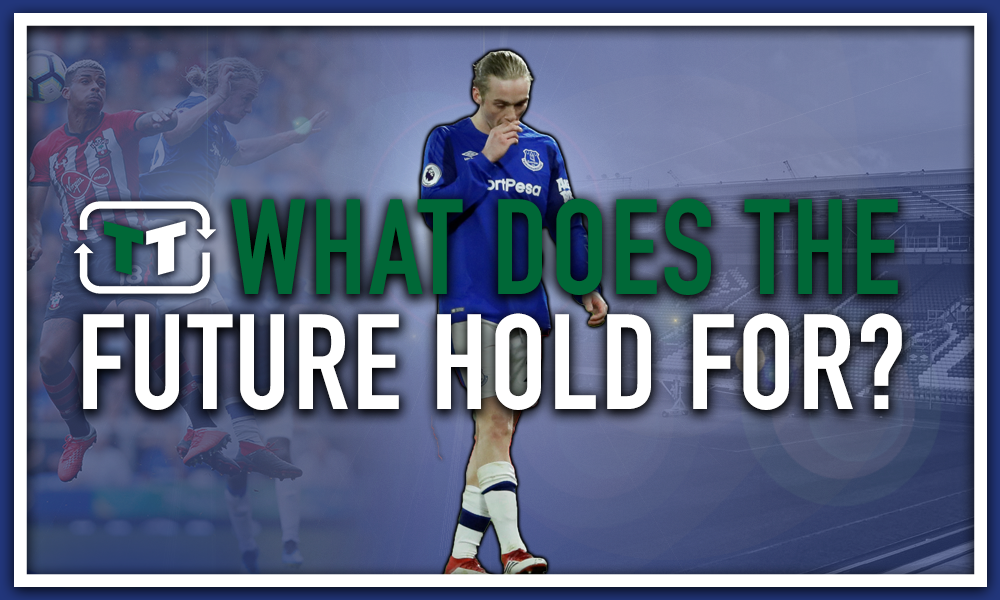 Some people may find it hard to believe that Everton midfielder Tom Davies is only 20. He has been a recognisable face for a number of seasons since emerging onto the scene as a scruffy teenager. 
However, despite the way that he burst onto the scene two seasons ago and became a regular at Goodison Park, he hasn't developed as much as fans would have liked.
Alongside fellow midfielder Idrissa Gueye, Davies' high tempo box-to-box style means that they could create quite a formidable partnership, but that hasn't yet materialised.
There are still too many errors in his game for the England under-21 international to be regarded as one of the superior players in the Premier League. According to Royal Blue Mersey, Davies lost the ball 5.5 times per 90 minutes last season, whereas Morgan Schneiderlin, averaged 1.6 per 90, and Gueye 2.4. Davies also completes half his dribbles and 78% of his passes.
These are stats that show that, despite his energy and enthusiasm, Davies (valued at £13.5m on Transfermarkt.co.uk) is certainly not the finished article. While no one has argued that he is, he unfortunately isn't anywhere near yet. But at 20, fans will say that there is a huge amount to come from him.
New manager Marco Silva has made him captain at times this season, and it appears to have got the best out of the player. However, there is still a sense that he is not yet living up to the hype that surrounded him. A similar thing happened to Ross Barkley, where his initial brilliance slowly petered out, and, eventually his relationship with the club soured as he forced a move to Chelsea.
Davies doesn't seem to be going the same way as Barkley, but fans of The Toffees will hope that Silva will be able to get the best out of the 20-year-old. There seems to be a mutual respect between the player and the manager, and that was shown by Davies' comments towards the Portuguese. He said:
"I felt he had a plan for me. He is someone I know I can improve under. The way it is going so far is the way I like to play. He has found a position that suits me so I'm looking forward to it."
This is the greatest indication that Davies can potentially become a legend at Goodison Park, as he may have found a manager that can channel his talents and improve him. That is something that Barkley cannot say he was given whilst with The Toffees, as the club have failed to nail down a manager since the departure of David Moyes.
With only two months into the Premier League season, we are beginning to see signs that the relationship between Silva and Davies is strong, and that can only be a positive for the club. With the Portuguese in charge, don't be surprised if the 20-year-old goes from strength to strength in seasons to come.