Wolves: Fans rage at Mike Dean following controversial VAR decision during Leicester draw
Plenty of Wolves fans made sure they had their say on referee Mike Dean following their 0-0 draw against Leicester City on Friday.
Yet again, VAR stole the headlines as Willy Boly's goal in the first half was ruled out for offside on a marginal technicality. The lines came out once more as Pedro Neto was deemed to be in an ineligible position by the length of a toe as he came to receive a short corner. BT Sport showed footage of Mike Dean being questioned by skipper Conor Coady as the players made their way into the tunnel at half-time.
The 26-year-old could be heard demanding Dean to explain the reasons why the goal was disallowed, but the referee was unaware of who was in the illegal position and was simply told in his earpiece to discount Boly's first-half header. Understandably, supporters were furious with the Wirral-born official and made their feelings clear on social media. One fan believed the situation was "beyond a joke" after Dean did not appear to know what he was doing, while another described him as a "control freak".
Is VAR ruining football?
Yes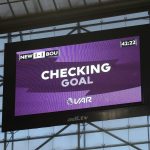 No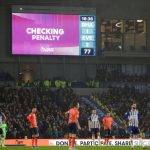 Check out some of the best Twitter responses down below…
Mike Dean has no clue, the linos has no clue, the fans in the stadium had no clue, the fans at home had no clue, NOBODY had any clue except from the one fucker sat behind a screen 200 miles away.. and even then it took him 2 minutes to have a clue. #wwfc

— ella (@ellawwfc) February 14, 2020
Football has given me so many memories and reasons to feel positive and that emotion is slowly being taken away by VAR. Didn't even celebrate the goal tonight. It's slowly becoming a science – not a sport.

— Matt Cooper (@mcooperwrites) February 14, 2020
Mike Dean wouldn't have disallowed it if he used the monitor, because then he would've seen how ludacris of a decision that would've been. Mike Dean didn't know why he was disallowing the goal. But he was TOLD to disallow it, he's the referee he gets final say not VAR.

— Teigan 🐺🐺 (@ItzTeigan_) February 15, 2020
Mike Dean is a control freak, he had no influence on that last night and hated being questioned about it

— Danny O'Neil (@DannyONeil2) February 15, 2020
It's beyond a joke , as Conor says " you're reffing the game and you don't know what's going on " ! #corrupt https://t.co/lrfL3p0vA3

— Anthony Lewis (@sansofewolf) February 15, 2020
@StephenWarnock3 @suesmith8 #RefWatch will be interesting to here Dermont wriggle out of @Wolves offside. Mike Dean couldn't even explain who was offside when Coady asked him. #VAR 👎👎 🐺v🦊 @premierleague @SkySportsPL @SkySportsNews @talkSPORT

— Darren May (@Wanderers11) February 15, 2020
Wolves fans! What are your thoughts on Mike Dean? Join the discussion by commenting below!