Glasgow Rangers: Fans react to SPFL clubs' reported fears of collapse after fresh government plans
An article from Daily Record journalist Keith Jackson has prompted plenty of reaction from Glasgow Rangers supporters.
In an article that he shared on Twitter, he wrote that numerous clubs in the SPFL are fearing a 'catastrophic' collapse over the coming months after the UK government revealed that football fans could be prohibited from attending matches for the next six months.
This situation is getting very serious indeed… https://t.co/VuN99kQ3NK

— keith jackson (@tedermeatballs) September 23, 2020
In turn, many clubs are fearing the need for an emergency bailout from the Scottish government to combat the stark possibility of going out of business, with the Championship, League One and League Two inactive since early March due to the outbreak of the global pandemic.
According to the Daily Record, First Minister Nicola Sturgeon is 'extremely unlikely' to allow fans back into games in Scotland before their English counterparts.
Do you have sympathy for the reported plight of other clubs?
Yes
No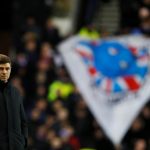 Jackson's reporting of the potential plight of SPFL clubs drew little sympathy from these 'Gers fans on Twitter, who no doubt will recall how the majority of clubs in the SPFL rejected their calls for an independent inquiry into the organisation earlier this year amid accusations of corruption over their handling of the league resolution proposal.
Here is a flavour of the reaction from the Ibrox faithful:
You reap what you sow the cess pit of Scottish football deserves what's coming

— Nooshy (@McNooshy) September 23, 2020
Scottish football has been eating itself to death since 2008 when they refused to extend the season in order to help one of its own win a European trophy.

Nobody acts in the greater interests of the game from grass roots all the way to the top.

Bitterness has killed the game

— Amato86 (@Amato861) September 23, 2020
Unfinished headline…. "unless clubs vote to end season"…. oh wait

— andrew sommerville (@poncho198315) September 23, 2020
Remember Scottish football need no one.

— william pedalbin! (@pedlebin) September 23, 2020
If only Scottish football didn't want to hate itself to death

— #DoYourJob (@gordyb1872) September 23, 2020
Maybe we could use this as a way to negotiate a move to English football.
I'd happily leave Scottish football to die https://t.co/2DgdqlZPve

— MB.1872 (@NewcoDemon) September 23, 2020
'Gers fans, would you be sorry to see clubs from lower divisions going bust if the current crisis results in that eventuality? Join in the discussion by commenting below!