Glasgow Rangers: Fans angry with club store photos
There has been plenty of change from a commercial point of view for Glasgow Rangers over the past few months.
The main change has been that the Gers have replaced Hummel with Castore as their new kit manufacturer. So far, the success of the new £25m partnership has been mixed – whilst the new home shirt sold out on pre-sale in just 36 hours, there have been complaints that the kits arrived late or were damaged when they eventually did make it to their destination.
The Gers have also rid themselves of Sports Direct and Mike Ashley, which led to a total revamp of the club's store at Ibrox. However, that also appears to have been a bit of a failure in the eyes of some of the supporters. It seems a portion of the fanbase are far from happy with the new facility, complaining that there are not enough products available for the fans to purchase – this comes after a couple of photos of the the store were shared online.
Have you visited the new club store?
Yes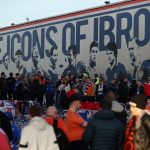 No
They took to Twitter to share their thoughts, and you can see some of the best comments from the social media platform below.
To have no home kit available in store or online is shocking. Why make a 3rd kit when you cant supply the home kit?

— Harry Bosch (@HarrytheBosch) September 3, 2020
Pathetic tbh…

— (@rockthekasbah88) September 3, 2020
Poor show.

— Blue Devil (@Trashvilleblue) September 3, 2020
I thought this on Monday, very poor.

— Simon Mc82 (@simonmcq) September 3, 2020
Let's be honest there are losing a fortune !!! I took my kids in to the store and there was nothing in there for them !!! No sizes no goodies for kids . No socks (none existent) teddy's , clocks , anything kids would like in there rooms etc very poor

— D4nny_80 (@d4nny_80) September 3, 2020
The lack of non clothing items is really poor!

There's a brand to be sold here and let's be honest, once you have the kit etc if that's all there is, then why go back.

You want to take the kids, spend their pocket money…. get repeat business etc.

No excuses not to do that!

— Rossco 76 (@Rossco76) September 3, 2020
Let us know what you think below!