Glasgow Rangers: McAvennie slams Gers for handling of Billy Gilmour
Frank McAvennie has slammed Glasgow Rangers' handling of Billy Gilmour.
Last Sunday, Nathan Patterson made his Premiership debut, and that led to praise from Michael Beale, who even compared him to Liverpool right-back Trent Alexander Arnold (Rangers TV via Football Insider). Patterson is highly-rated at Ibrox, and many will be hoping he does not follow in the footsteps of Gilmour, who joined Chelsea when he was just 15 years old.
Talking to Football Insider, McAvennie clearly feels that the Gers must not repeat their Gilmour mistake with Patterson. He explained:
"It has been a long time since we have seen an academy player make a big impact at Ibrox.
"Celtic have done it a few times with the likes of Forrest, McGregor and Tierney – a few have come through the ranks. It appears that they get given more of a chance at Celtic than Rangers.
"I am a great believer that if you are good enough you will make the team and Patterson is very close.
"I just do not understand why Rangers did not see what everyone else saw in Billy Gilmour. I do not get it. Can you imagine Gilmour at Rangers now? I am delighted he isn't there!"

This is a bit of a silly comment from McAvennie – is not as if the 54-time Scottish champions did not try and keep the midfielder at the club. The manager at the time, Pedro Caixinha, made it clear he wanted him to stay, whilst the club confirmed the same in their statement following his departure from the club.
Was it Rangers' fault that Gilmour left Ibrox?
Yes
No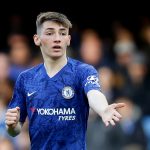 The Blues paid just £500,000 for a player already valued at £4.86m by Transfermarkt at the age of just 19 years old – no doubt there will be many at Ibrox who will be unhappy that he departed so young. But it is wrong for McAvennie to blame the Gers for his departure – there is no doubt that they wanted him to stay north of the border.
Let us know what you think below!