Glasgow Rangers: Hutton says Gerrard will talk to Ryan Kent over recent conduct
Alan Hutton has told Football Insider that Glasgow Rangers manager Steven Gerrard will have a conversation with Ryan Kent over his conduct ahead of the new season.
The winger was sent off against Lyon during the Gers' 2-0 win in the Veolia Trophy, and there were even worries that he could miss the start of the domestic season as it was due to violent conduct. That has proven not to be the case, but it is still an issue for the Ibrox outfit that the 23-year-old was sent off in a friendly match.
Former Gers player Hutton believes the former Liverpool man will have a conversation with Kent, and tell him that he cannot behave in such a way. He said:
"He's had previous for it, he's obviously got this little hot streak in him which is fine because some players thrive off that, they play better.
"He just needs to hold back a little bit – in a friendly, yes, you can get away with it and he could have got banned but he got away with it but you can't be doing that during the season.
"He's such an important player for Rangers, his skill for one of the goals from the short corner I thought was brilliant – that was the first Ryan Kent we saw, that's the one we want this season.
"I think Gerrard had the exact same, it's more of a winning mentality, you hate getting beat or someone getting the best of you. You don't want to take that out of somebody's game because they become a different player but you also have to realise there's a line and you can't cross it.
"If you cross it, you're harming the club, yourself, the rest of the players – it's too much. Yes, play on the edge but don't have that stupidity in you – remember against Celtic the Scott Brown incident? You can't be like that. I think Gerrard will probably have a conversation with him about this."
Indeed, Gerrard will need to have a word with Kent over his conduct in this situation – this is not something that he can put up with as he plans to lead the Ibrox outfit to a first major trophy since 2011. Kent does have previous for a temperament on the field, as we saw when he punched Scott Brown in the face during an Old Firm match.
Has Ryan Kent been a success so far?
Yes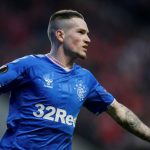 No
£3.15m-valued Kent, as per Transfermarkt, has talent – he has 14 goals an 13 assists in 75 games for the Gers – but he needs to use it in the right way. This kind of situation helps no-one.
Let us know what you think!