Rangers: Danny Mills believes Gers could sell James Tavernier
Danny Mills believes that Glasgow Rangers could sell either James Tavernier or Nathan Patterson this summer.
Gers could sell Tavernier
The Gers have two fantastic right-back talents in Tavernier and Patterson – unfortunately, Steven Gerrard is unable to fit both of them into the same line-up.
Speaking to Football Insider, Mills believes that one of them could leave the club this summer. He explained:
"It's a difficult one.

"Gareth Southgate did it when he put Kieran Tripper at wing-back and Kyle Walker in at centre-half that worked. It can be done, without question. 

"Can you afford to sell one and bring in another of quality that doesn't affect your team's dynamic and everything else?

"It's always a balancing act. Who do you play where?

"It's difficult because two of your better players play in the same position.

"It's not like England where you've got so many right-backs where you're pretty much covered in every other position. In those sorts of teams, you want to get your best players into the team.

"You have to be careful to not over complicate it. Sometimes you have to go 'Right, we've got two really good players in that position. We might have to sell one to bring other players in.'

"That's where your man-management and recruitment comes into play. We always talk about how important recruitment and forward-planning is."
Difficult decision
If Mills is right, Gerrard and Ross Wilson will have a very difficult decision to make. Tavernier has arguably been the Gers' best player this season – no player has more goals or assists for Rangers in 2020/21 despite him being a right-back (Transfermarkt). Patterson, meanwhile, has managed two goals himself and has impressed in the captain's recent absence.
Who would you sell?
James Tavernier
Nathan Patterson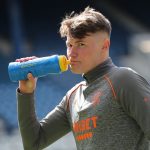 In the long run, Patterson is likely to be the first choice at right-back for years. As good as the £7.2m-valued Tavernier (Transfermarkt) has been, he is now 29 – at some point, he will no longer have any resale value for the 55-time Scottish champions. If one of the two has to leave, it should be Tavernier – but given that they will soon embark on a Champions League run, they would be better off keeping both of them for at least another season.
In other news, Rangers are in advanced talks to sign this striker.