Rangers: Hutton says Filip Helander is too slow for the Premier League
Former Glasgow Rangers defender Alan Hutton believes Filip Helander is too slow to play in the Premier League.
Hutton discusses Helander
Helander has been linked with a move to England recently (Sportbladet), with Leicester City and Aston Villa in particular believed to be interested in his services.
However, speaking to Football Insider, Hutton has raised concerns over his lack of pace. He said:
"That's an interesting one. What do I think?

"I think he's a very good player, up in Scotland I thought he's done excellent.

"In some of the bigger games, yes, his positioning is good but he sometimes lacks a little bit of pace. I think that could always be a problem in the Premier League. The only thing I have in my mind is the pace of the Premier League. 

"The level of everything: technical ability, strength of the game, pace of the game, you're going up a few notches. It's the one issue. Everything else, absolutely spot on.

"If you look at some of Steven Gerrard's decisions as to who plays, it's been Balogun who comes in because he has that extra yard of pace. If anything, that could be the stumbling block for me."
Better for Rangers
Hutton may well have a point – the Sweden international could well struggle with the pace of the Premier League. It is a lot different than in Scotland, where teams often deploy a big, strong centre-forward rather than a player with plenty of speed.
Will Rangers sell Helander?
Yes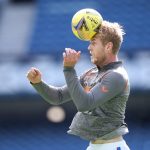 No
Centre-backs lacking pace have succeeded south of the border – John Terry is one of the first who comes to mind – but that doesn't mean everyone can make it. However, that may be better news for Rangers anyway. Helander has been an important player for Steven Gerrard since signing from Bologna for £3.5m in 2019 (The Scottish Sun) – the Gers are yet to lose a league game with him in the side (Transfermarkt). Given their success with the 27-year-old, why would the Gers want to let him leave?
In other news, Rangers are interested in this 27-goal striker.