Rangers: Fans react to Joachim Low news
Glasgow Rangers fans have been reacting to the news that Joachim Low will leave his job as Germany manager after the Euros, which they believe could have an effect on the future of Steven Gerrard.
After 15 years with Die Mannschaft, Low will leave his post after this season's European Championships, the DFB has confirmed. During his time in the role, he has led the side to a World Cup victory, a European Championships semi-final and two other major tournament semis.
There have been rumours in recent weeks that Liverpool boss Jurgen Klopp may take over, and as such, Gerrard has been linked with the Reds job (The Mirror). The Gers have just clinched their 55th Premiership title, their first in 10 years, in dominant fashion – it would be disappointing to lose the man who has presided over that.
Will Gerrard be at Rangers next season?
Yes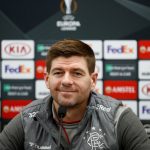 No
The fans have been reacting to this news in their droves, and they have taken to social media platform Twitter to share their thoughts, believing a chain reaction could now be set off that ends with Gerrard going back to Anfield.
Let's see what the fans had to say about the Low news below
"Headline: Joachim Low to leave. Me: This is the end. Klopp will go to Germany, Gerrard will go to Liverpool , And we'll end up with McInnes I genuinely live in fear of him leaving us daily"
Credit: @LeighhKirsty
"Klopp to Germany and then Gerrard to Liverpool? Don't think I'm ready for him to leave us just yet!"
Credit: @Ryan17ward
"Maybe I'm wrong, but I honestly don't believe SG would leave now. Even if Klopp goes, I don't think Gerrard is one to leave unfinished business midway through a contract. He'll end up there eventually, but I think he'll be with us to defend the title and have a crack at the CL."
Credit: @easyluckyfree84
"Day ruined."
Credit: @Clark97
"There may be trouble ahead….."
Credit: @EmpireFF
"If Gerrard is offered the Liverpool job over the Summer I would be gutted but if he chose to leave I would thank him for the job he has done for us the man is now a legend for us and the only way he could improve on that is by winning a European competition."
Credit: @55WillCome
In other news, Rangers fans laud this key figure.