Glasgow Rangers: Fans call for Alfredo Morelos to be sold
A number of Glasgow Rangers fans have called for striker Alfredo Morelos to be sold amid reports that he could be on his way to Lille.
As per Sky Sports, the 24-year-old has agreed personal terms with the Ligue 1 club, who are now negotiating a fee with the 'Gers for the Colombia international.
Morelos' eminently possible departure would leave Steven Gerrard needing to replace the club's top scorer from last season, with the striker finding the net 29 times in 2019/20, with just under half of those goals coming in the Light Blues' Europa League campaign.
Should Rangers keep or sell Morelos?
Keep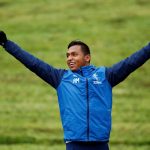 Sell
However, the Colombian has only found the net once in 2020, in a Scottish Cup tie against Hamilton, and has also yet to find the target in four pre-season matches for the 'Gers. He also carries a worrying disciplinary record of seven red cards over the past two campaigns and was reprimanded by Gerrard for returning late from a trip to his homeland back in February.
This week's rangers rumour..

It's being reported that Alfredo has agreed terms with Lille with the club's now to just negotiate a fee..

What's your thoughts on this potential transfer?

Do you think it's time Morelos moves on?

— CJ (@Cjnovo992) July 26, 2020
'Gers fan @CJnovo992 on Twitter asked supporters if they feel that it's time for Morelos to be sold, with many replying to call for the Ibrox club to part ways with the 24-year-old:
If it's true and he's agreed terms then his head is no longer with rangers. So yes it's time to go.

— Only Team For Me (@OnlyTeamForMe54) July 26, 2020
Stroppy from not getting a move in the winter, to petulant red cards, he single handedly cost us league points 2 keep the pace. Im glad to get shot of him. Hes not put in the effort since he was rejected a move. Overweight & out of shape too. Not good enough, this year especially

— Steven McEwan (@Stevie_McEwan) July 26, 2020
If it's true he has agreed personal terms with Lille then I don't think we should fight to keep him, he clearly wants to go. Will be gutted to see him go but he's a different player in the league and in European games.

— Mhairi Andrew 🇬🇧 (@MhairiAndrew) July 26, 2020
If the player wants to go then let him can't have stroppy players around the squad we need everyone to stick together but we do NEED a much better replacement lined up to come in immediately we have missed the trick of trying out our academy strikers in the pre season friendlies

— Teddy Staunchly (@TeddyBearRFC) July 26, 2020
He got the goals for us but I always felt he didn't want to be at our club. His strop yesterday after being subbed was the epitome of his immaturity, when he knows he's our only striker option at the moment, but he's only concerned about himself and his game time.

— John Devine (@TyrantOfSteel) July 26, 2020
Not fussed like everyone else. He's continued his attitude from January. Would probably be a detriment to the squad if kept.

— Kevin Wakeham (@KEGW1995) July 26, 2020
Heading off the park and through the tunnel said it all for me yesterday. Can't be carrying this type in any team as it only breeds cancer. Good when on form but a serious anchor when off. Time for Rangers to get a 2 for 1 deal.

— Colin Shanks (@colin_shanks1) July 26, 2020
Hes no looked right for ages mate there's something bugging him hes missing chances he used to put i think as long as its over 10 let him go

— callum kelly (@DubrelCK) July 26, 2020
'Gers fans, has the time come to take the money for Morelos? Have your say by commenting below!