Glasgow Rangers: Fans love Castore concept kit
It looks as though Glasgow Rangers' kits will soon be designed by Castore.
Over the past few days, it is has been confirmed that the Ibrox outfit will be ending all of their commercial contracts, which would mean that they will be looking for a new name to replaced Hummel on their shirts. It has been rumoured that Castore will take over, with the Gers set to receive £20m over five years as per journalist Jon Rest.
Of course, the club's supporters are eager to see what any new shirt would like, and fortunately Twitter user @SgtRedPhoenix has come to the fore. He has produced a concept kit for Gers fans, and it is fair to say it looks absolutely fantastic.
Do you like this shirt?
Yes
No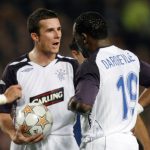 That is what the fans of the 54-time Scottish champions seem to think anyway. They have taken to the social media platform to share their thoughts, and you can see some of the very best comments below.
Hey Red, that a superb concept kit. Thanks for sharing it with us 👍🏻

— This Is Ibrox (@thisisibrox) May 5, 2020
Surprised this was designed so sympathetically by a fan of the other end of the city. That's beautiful!

— Greegsy's Gloves (@Gers89_) May 5, 2020
This is an absolute belter. Shame the actual kits never as good as some concepts.

— Geo (@Rfcgeo104) May 5, 2020
I have to say, I really quite like that.

— Brian Stewart (@BrianSt96751382) May 5, 2020
Would buy.

— R U S T Y (@rustyrambles) May 5, 2020
I hate all this stuff
But this is the nicest one I've seen https://t.co/EeDFhOx3ZP

— H҉a҉r҉r҉y҉ (@HoofHarry) May 5, 2020
Let us know what you think!