Glasgow Rangers: Fans hammer Tom English's tweet about Alfredo Morelos
With the Scottish football season now having drawn to a close, it is time to look back on the campaign and decide who deserves to win the Football Writers' Player of the Year award.
Whilst the term was not completed, the top tier still managed to get through 29 games – with some even playing 30 times – and that division contributes to three of the four players who have been nominated for the accolade. Celtic pair Odsonne Edouard and Callum McGregor are on the shortlist, whilst Glasgow Rangers striker Alfredo Morelos is also there after having scored 29 goals throughout the campaign in all competitions. Lawrence Shankland also makes the list despite playing in the Championship after scoring 26 goals for Dundee United.
Does Morelos deserve to win the Player of the Year award?
Yes
No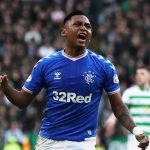 Tom English, the Chief Sports Writer for BBC Scotland, believes that Edouard is deserving of the accolade and has said that 23-year-old Morelos wouldn't be a worthy winner, claiming that he didn't perform when it really mattered. This does not appear to have gone down too well with these 'Gers supporters, who they have taken to Twitter to share their thoughts. You can see some of the best comments from the social media platform below:
Wow – Morelos scored 14 goals in Europe and Edouard only 6. But yeah I forgot the SPFL is a higher standard 👀

— Blabbermouth (@Blabber08756401) June 1, 2020
He was only the top scorer in the Europa League
But I guess the spl is a higher level

— Grey Ham Durty (@tailsy2) June 1, 2020
I'm shocked….. back to playing to the core audience Tom

— sten (@steven_lennox) June 1, 2020
Surprise Surprise, no need to be a clairvoyant to have known this, you didn't to let anyone know , we could work it out 🤡🤡🤡🇬🇧🇬🇧🇬🇧

— Steven (@ibroxpark1) June 1, 2020
Deary me, we're the only team still in Europe because I'd Morelos.

— adidasler (@adidasler3) June 1, 2020
Well done Tom. Please ask them to check the spam folder in case they haven't received it

— Mr Souness (@laffingallday2) June 1, 2020
'Gers fans, were you angered by English's criticism of Morelos? Let us know what you think by commenting below!