Rangers: Fans slam Chris Sutton's commentary of Alfredo Morelos' clash with Christopher Jullien
Loads of fans have been slamming the commentary on BT Sport during one particular incident in Rangers' League Cup final defeat to Celtic, which appeared to show some serious bias against Alfredo Morelos.
We've all heard it by now. Morelos is a dirty player, Morelos is this and Morelos is that.
The Colombia international certainly doesn't do his reputation any favours – he racked up 16 yellow cards and five reds last campaign and already has six yellow cards this season.
Yet, Chris Sutton's damning verdict on an incident involving Christopher Jullien in Sunday's 1-0 defeat has left a sour taste in the mouths of plenty of fans.
Morelos caught the towering French defender on the ankle as he ran past him in the second half, but the Gers striker never looked at the Celtic man or altered his stride to initiate the contact.
Sutton didn't see it that way, saying on BT Sport's commentary: "That's naughty, really naughty from Morelos.
"Had Willie Collum seen that, I think he'd be a goner."
Needless to say, plenty of fans have slammed Sutton's verdict on what appeared to an accidental coming together, as one even pointed out it was far less deliberate than Scott Brown's trip on Morelos last season, which led to a red card for the Colombian.
You can find some of the best Twitter reactions down below…
Time @RangersFC refused to deal with this mob the agenda is embarrassing

— peter kelman 🇬🇧 (@aberlourbear) December 9, 2019
be honest, any other player does that. It's accidental. Morelos does and Sutton tries to create a narrative to suit his agenda.

— Martin McDade (@MartinMcDade85) December 8, 2019
Incredible and disgusting commentary from Chris Sutton. Everyone knows how he despises Rangers, and he's jealous and bitter, but that commentary, when Morelos clearly wasn't even looking at Julie, is a disgrace

— Andy Henderson (@AndyHenderson6) December 9, 2019
There was nothing to that, he did not look to hit him.

BT what is going on today renaming to CELTIC TV

Give it up will ya.

— The Mundo (@TheMundo24) December 8, 2019
Your commentators on this game are shocking

— Steve (@Steve7834_) December 8, 2019
I will be Cancelling by subscription later after work . One sided commentary full of hate needs addressed

— Mark Leighton (@MarkyLeighton84) December 9, 2019
Just cancelled my subscription with u. Can't listen to 1 side commentating anymore

— Colin Leighton (@colin_leighton4) December 9, 2019
Will Alfredo Morelos finish the season a Rangers player?
Yes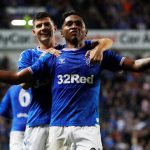 No