Rangers: Fans love picture of Nacho Novo after scoring
Rangers' run to the 2008 UEFA Cup final is likely to live long in the memory of the Ibrox outfit's supporters.
Scottish clubs have failed to regularly get the to the latter stages of European competition, with the Gers appearance in that match 12 years ago the last time any side from north of the border made it that far. They were actually only in the tournament after finishing third in their Champions League group, meaning they qualified for the first knockout round in the other competition.
From then on, they beat Panathinaikos on away goals over two legs, before dispatching Werder Bremen and then Sporting Lisbon. They then faced Fiorentina in the semi-finals. In two nervy matches, neither side managed to score, with the Gers eventually winning on penalties to book their place in the final in Manchester.
Is the 2008 UEFA Cup semi-final win vs Fiorentina your favourite football moment?
Yes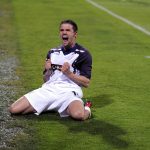 No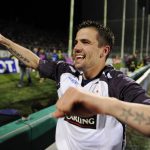 Nacho Novo netted the winning spot-kick exactly 12 years ago on Friday, and to celebrate the anniversary, Rangers' official Twitter account shared a picture of him after he had bagged. Clearly, it has brought back a lot of memories for the supporters, who have taken to the social media platform to share their thoughts – one fan said it "seems like a dream". You can see some of the best comments below.
/- This was arguably the greatest football match I've ever been to.

Goosebumps thinking about it. https://t.co/xOhNz5KHNE

— | NOT @CandiceLeRae (@SecondNoMore) May 1, 2020
Best football feeling I have ever encountered, from the Ferguson miss to the ecstatic feeling when Novo blasted the ball home….Rangers are coming @RangersFC https://t.co/WycVcmAB4T

— David Rae (@DARae1990) May 1, 2020
Seems like a dream now but what a run.

We went to Manchester for the final (no tickets) but what a night. We stayed with family in Wythenshawe and got dropped off in the city centre & we had a great time, no violence nothing, just loads of Bears having a great time. https://t.co/povYv4IPpf

— Terence ROLL (@roll_terence) May 1, 2020
17 years old. 36 hours odd on a bus on the way there and back. What a trip, what a feeling @Brian_B_89 https://t.co/JAl9Geztlh pic.twitter.com/6AmhklnuYd

— Graeme McMillan (@graememcmillan) May 1, 2020
Still remember the feeling. Brilliant. https://t.co/vxYPDf5FtP

— (@DannyDunsmore) May 1, 2020
@Neale09 @DLightfoot25 What a feeling that was!

— Leigh Whyte⚘ (@LeighWhyte1) May 1, 2020
Let us know what you think!