Rangers
These Rangers fans are concerned by Steven Gerrard's decision making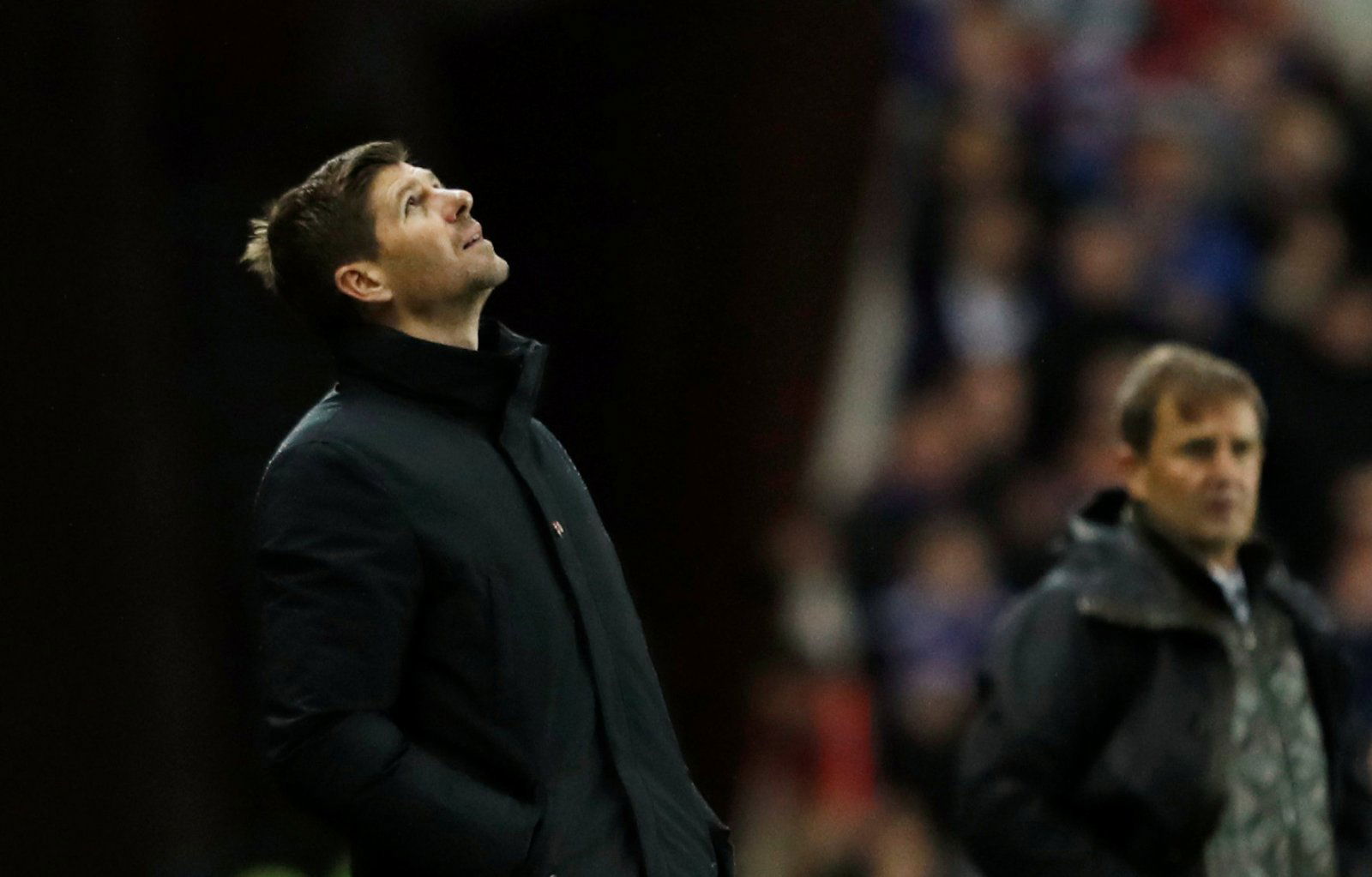 Rangers' hopes of qualifying for the knockout phase of the Europa League were dealt a major blow on Thursday night as they were beaten 4-3 by Spartak Moscow in Russia, despite taking the lead on three separate occasions. 
For all of the hype which has surrounded Gerrard's arrival at Ibrox and the pre-season optimism which came with it, there is a feeling that Rangers have failed to progress under his leadership so far this season.
Domestically there is little sign of a marked improvement, but they had impressed in Europe until they suffered defeat on Thursday night.
While there are certainly individual pitfalls to be highlighted throughout the squad, there is no doubt that Gerrard has to be held accountable for a series of abject performances in recent weeks.
Of course, there is only so much a manager can do to influence what happens on the pitch, but his decision to avoid making a single substitution last night until the 82nd minute was questionable to say the least.
Add in the fact that Jon Flanagan has been playing at left-back as opposed to his more natural right-back position, and it's clear to see that he is making fundamental errors which are ultimately restricting Rangers' development.
And besides, it's all well and good coming out and slating your defensive unit for lacking basic defensive qualities which you learn as a teenager, but who exactly is training these players all week and preparing them for fixtures?
Of course, Gerrard is the man overseeing that particular operation and it's down to him to ensure his defensive unit are refining the basics on the training ground throughout the week.
In the aftermath of proceedings, the Rangers supporters took to Twitter to slate their manager for his poor decision making which culminated in last night's performance, with the aforementioned themes notable points of discontent for the supporters.
Here's what the Rangers fans have had to say about Gerrard's questionable decision making…
Flanagan is never a left back and if Gerrard can't see that then ….he's in big trouble.

— Scottish and British (@samboardman99) November 8, 2018
Hope I'm wrong but worrying signs recently that Gerrard – as I feared when he got the job – has too much learning still to do to be managing a club as big as Rangers at this stage in his career. Picking out of form players, poor use of subs, and struggling to find a plan B.

— Iain Bishop (@IainSpursfan) November 9, 2018
I've said before about Gerrard and his subs and it's starting to worry me. Gerrard basically stood and watched our midfield get steamrollered and our left hand side slaughtered but did nothing: he's culpable too. It's been a running theme all season.

— Kirsten (@kirsten93_) November 9, 2018
Does Gerrard know he can make a sub

— Gareth Forbes (@sebrofg) November 8, 2018
"don't do the basics well enough" well you picked the team and the players, you watch them week in and week out struggling to do the simple basics on the park, this waiting till the game is pretty much done to bring on a sub is nothing short of a disgrace.

— F*ck Cancer (@fkthesfa) November 8, 2018
Jack & Halliday should've been brought on to tighten up cm & lb…. teams know Flanagan is slow and cand defend on the inside

— Kevin McGinn (@krmcginn1) November 9, 2018
Stevie needs to stand up himself at the moment. He has players to work with, you can't just hammer them all the time. You can't just threaten to replace them all either. Big game Sunday.

— . (@Beesh24240265) November 8, 2018
Too many people thinking Steven Gerrard can't be criticised because he's Steven Gerrard.Our players have played more games than he's managed,yes he's inexperienced but he has to be questioned about his lineup and why he makes subs so late

— Lewis Ross (@LewisRoss1872) November 8, 2018
Warburton didn't make subs soon enough, Murty didn't make the right subs, Gerrard isn't making subs at the right times. It won't solve our problems and I'm no expert but surely this needs to be addressed.

— liam (@LiamJackson_13) November 8, 2018
Like what the TT have on offer? Sign up for more notifications!