Rangers
These Rangers fans destroy Nikola Katic for performance in 4-3 defeat vs Spartak Moscow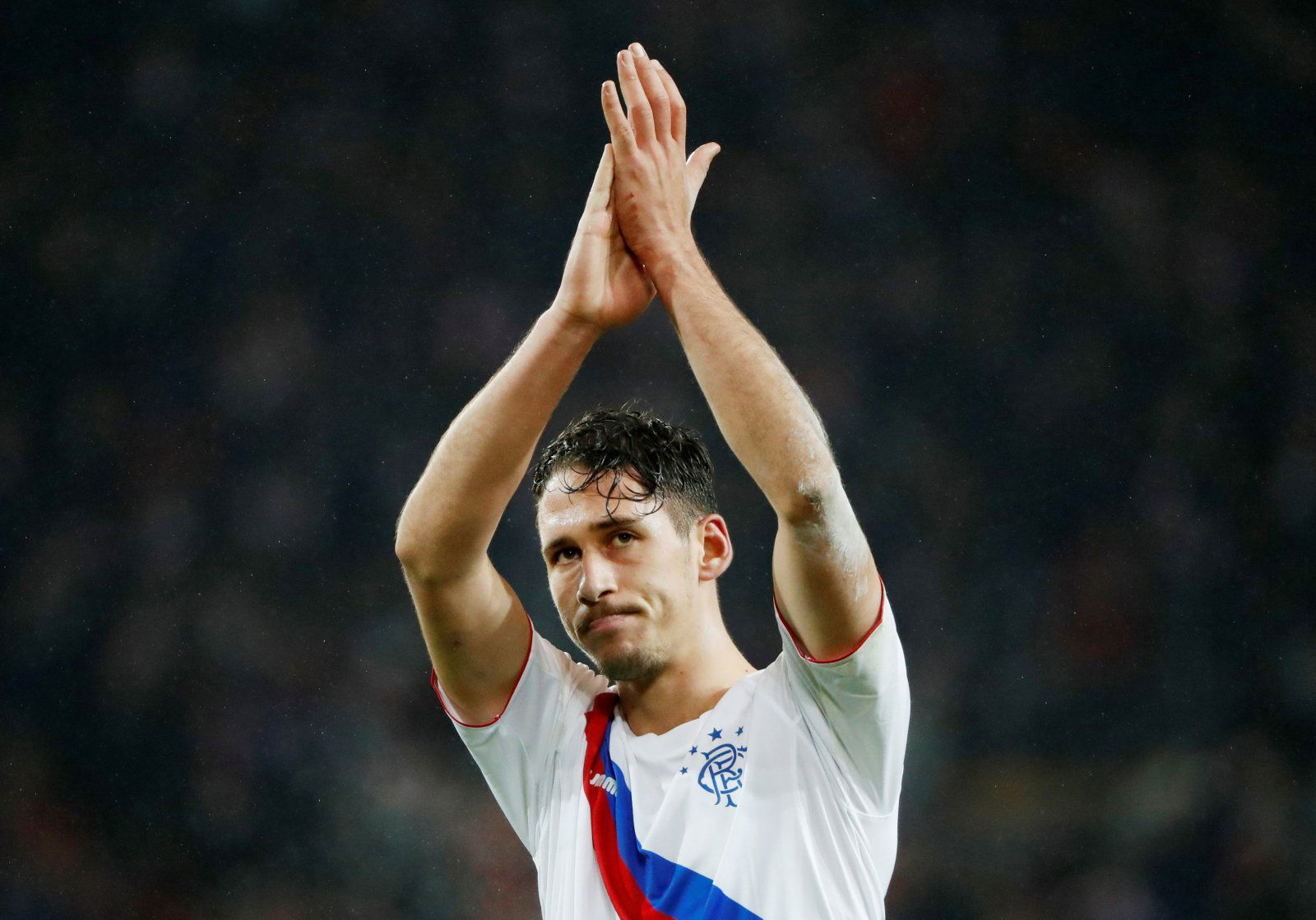 Rangers travelled to Russia on Thursday evening with a fantastic opportunity to put one foot into the next round of the Europa League by clinching 3 points against Spartak Moscow, but they will return to Scotland with nothing to show for their efforts despite taking the lead on three separate occasions. 
It was a frustrating night for Gers supporters as their defensive frailties ultimately cost them the opportunity to move into a commanding position in Group G.
Steven Gerrard raised plenty of eyebrows before the match by replacing Joe Worrall with Nikola Katic who partnered Connor Goldson in central defence.
The Croatian defender was a first-team regular at the start of the season following his summer arrival, but he has fallen out of favour in recent weeks and his rare start gave him the opportunity to prove himself to both Gerrard and the supporters.
But the 22-year-old struggled in a back-four who looked completely out of sorts all night long, and the standard of his performance was a far cry from the level he set for himself earlier in the season.
In the aftermath of proceedings, the Gers faithful turned out in their numbers on Twitter to lambaste him for his lacklustre showing, and they didn't hold back one bit in their assessment.
Here's what the Rangers fans have had to say about Katic's performance on Twitter…
Goldson, Katic, Flannigan, Ejaria, Coulibally. Worst on the park for me.

— Supersonic! (@_GrantM19) November 8, 2018
Katic is a flop change my mind.

—
I'd be saying to McAuley and Worral that they will start the next 2 games, go out and make the shirt yours.

Goldson started off brilliant but I think Is either tired or is believing his own hype and let his standards slip.

Katic needs built back up, his confidence is gone.

— Thelionbrand (@thelionbrand) November 8, 2018
genuine 1/10 performances from katic, goldson and flanagan, horrendous.

— Benson (@andrewbenson94) November 8, 2018
Katic looks a completely diff player from the start of the season? Same with coulibaly

— maaairgb (@maaairGB) November 8, 2018
Dunno mate katic had a shocker but mccoist was slating him for the sake of it in the end was shocking tbf

— simonM8 (@Simonre645) November 8, 2018
Goldson was terrible too worst game in a Rangers Shirt but Katic was grim. That was a penalty also we got away with imo

— Jean (@jaycee123) November 8, 2018
Ejaria was terrible on the ball tonight, didn't take care of the ball. Flanagan and Katic unspeakably bad. Goldson not too clever. Coulibaly frightens me. Tav and Arfield steady. Morelos, Candeias and Middleton great. Shagger? Unbelievable. Would've been 7/8 without him. MOTM.

— SPK (@esspekay) November 8, 2018
Katic is a flop change my mind.

— SocialistUnionist (@SUnionist) November 8, 2018
Katic was rotten didn't even win a header and when he did he hit the post

— Chris Corrie (@chriscorrie123) November 8, 2018