Rangers: Fans hammer Joey Barton
It is fair to say that former Rangers midfielder Joey Barton is one of the more controversial figures in British football.
The Liverpudlian has made the headlines throughout his career, whether it be for his actions on the pitch – such as his red card as a QPR player against Manchester City in the final game of the 2011/12 Premier League season – or his comments off the field, there has very rarely been a quiet moment.
Now, he has retired from professional football as a player and is the manager of Fleetwood. That, though, has not stopped him from laying into some of his former Rangers teammates and others figures in Scottish football. He was interviewed by Callum McFadden, and it is fair to say that some of his comments were interesting to say the least.
Was Joey Barton unlucky at Rangers?
Yes
No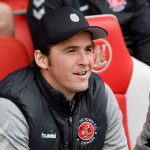 As you can imagine, his words have garnered plenty of reaction from the Rangers supporters, and they weren't slow to hammer him – one fan even called him a "big-time charlie". They have taken to Twitter to share their thoughts, and you can see some of the best comments from the social media platform below.
The worst Rangers player I've ever seen, not in terms of ability but his arrogance seals it.

You can't simply throw everyone under the bus without taking blame yourself when you were the single worst player in that era.

People giving him sympathy are too light hearted.

— (@RakoTuke) April 24, 2020
The guy has a cheek to talk about any rangers player regardless of how good or bad they are, he's one of the worst I've seen at ibrox

— Ross (@7902rossmacd) April 24, 2020
Big time Charlie that wasny really big time

— david kerr (@daviek36) April 24, 2020
We must be losing the plot if we are listening to that waste of space. Was never good enough to play for Rangers- as a player or a man.

— Thesepretzelsaremakingmethirsty (@BertaW) April 24, 2020
Joey Barton Making a fool of himself with what he's said about rangers.

— Katie (@katiemcgowan200) April 24, 2020
When he was on talk sport giving it big licks I had the fear already- sadly the feeling was for good reason

— Steven McFadyen (@Steven_McF) April 24, 2020
Let us know what you think!